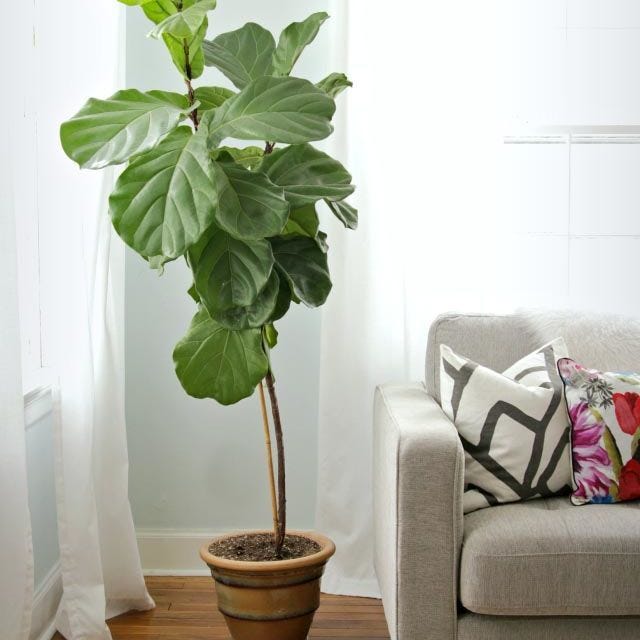 There's actually no such thing as a green (or black) thumb. Yet once you're tossing out your crispy fiddle leaf fig for the third time (bye, money), you may have a different opinion. The fact is, fiddle leaf figs are hard to maintain because their threshold for stress is a lot lower than other plants—so if you're moving them around too often, repotting them, or setting them next to a drafty air vent, they're not going to be happy.
"Just like people have different tolerances for disruptions in their environment, so do plants," says Brielle Sebold, a plant expert who works with Flora Plant Shop in Nashville.
In addition, the fiddle leaf's natural environment is tropical, so it loves high humidity and bright, but shaded light—in the wild, it would be partially shaded by other foliage. It's also very sensitive to being over or underwatered, so unless you put your plant on a schedule as rigorous as a child's (which, let's face it, even the most devoted plant parents aren't likely to do), there's a good chance your fiddle leaf won't survive through next season.
But, fear not: If you love the look of a fiddle leaf fig, there are plenty of other plants that can give you a similar style and a little more grace when it comes to keeping them alive.
pistilsnursery.com
$28.00
The ficus family, which includes the fiddle leaf, is full of other beautiful plants too, like this one—also called a rubber plant. "These can grow into trees like the fiddle leaf fig, but they are a little more tolerant to stress than their cousin," says Sebold. Ficus Audreys come in different variegations with waxy, oval, dark-green leaves and a white trunk, and grow best near a window with indirect light.
Monrovia
lowes.com
$29.98
Native to southern Africa, the bush lily is a great low-maintenance plant with thick, strappy leaves and trumpet-shaped flower heads that bloom bright orange, yellow or red in late spring, says Diane Burns, certified horticulturist and "plant whisperer" at Pippin Hill Farm & Vineyards in Virginia. "The plant actually needs to go dormant in the wintertime for about four to six weeks, so during that time, there's very little watering," she notes.
Also called "mother-in-law's tongue" (we're just going to leave that one right there), this plant is known for its long, spiky leaves. Yet unlike your MIL, it doesn't require very much attention, says Burns, and it's ideal for climates with cold winters. "This plant can handle dry heat in your home quite well, and it's a great architectural plant," she notes.
If you have high ceilings in your home, the Monsterea—also known as a Swiss cheese plant—might be for you: It can easily reach six to eight feet if it's able to attach itself to a post. "This plant makes a bold statement and tolerates occasional neglect," says Julie Janoski, plant clinic manager at The Morton Arboretum in Chicago. It prefers moderate to bright indirect light.
Thelittlejungle
etsy.com
$19.24
This plant can be a little hard to find (and even harder to pronounce), yet "once you do, you won't be able to stop looking at it," says Sebold. It has large, light green leaves with what looks like dark-green paint splatters, and tolerates lower levels of light than other tropical plants. A word of caution for dog and cat owners, though: Dieffenbachia isn't safe for pets.