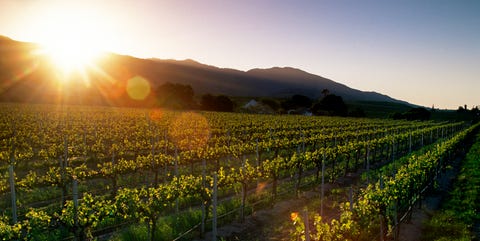 You know what they say: When in doubt, go to a winery. They say that, right? Because they should. The thing is, wineries are never a bad idea—sunny days, rainy days, summer days, winter days, vacation days, staycation days, you name it, there's never a bad time to have a good time.
That holds true no matter what state in the US you're in, fellow wine connoisseurs. Yelp helped us compile the 51—yes, of course we included DC—best wineries in the United States. To do so, the review website looked at the star rating and number of reviews for businesses listed in the "wineries" category. Some of these are just too good to be true.
1
Alabama: Cat-n-Bird Winery
"This was my first visit to the winery but for sure won't be my last. The atmosphere is laid back and relaxed. The view is of trees and a barnyard, very beautiful in fall with the outdoor seating. Indoor is plenty of seating at the bar, and tables in the back." - Nikki
VISIT
11661 Old Highway 280
Chelsea, AL 35043
2
Alaska: Bear Creek Winery & Lodging
"A winery in Alaska...whhhaatt! This place is super cool. Came here on our last trip to Homer and it was definitely on the list of places to go back to on this trip." - Michelle G.
VISIT

60203 Bear Creek Drive
Homer, AK 99603
3
Arizona: Arizona Stronghold Tasting Room
"Great wines, great staff, great ambiance, great food and all very reasonably priced. Had a great Saturday afternoon tasting (generous pours); back on Sunday for delicious skewers." - Claudio I.
VISIT
1023 N. Main Street
Cottonwood, AZ 86326
4
Arkansas: Railway Winery & Vineyards
"We loved this quaint little winery. The owners were knowledgable & friendly. We enjoyed a free tasting & stayed & d a bottle on location. Bought several bottles to take home. A must-visit." - Christine L.
VISIT

4937 Highway 187
Eureka Springs, AR 72631
5
California: Vincent Arroyo Winery
"SIMPLY THE BEST WINE I'VE EVER HAD IN MY LIFE! ... If you are in Calistoga, make your appointment. Go see them. Thank me later!!" - Poupie B.
VISIT

2361 Greenwood Avenue
Calistoga, CA 94515
6
Colorado: Hermosa Vineyards
"With no shortage of vineyards and wineries in the area, I have to love a place on an epic level to go more than once during our excursions to Palisade. Hermosa is one of those wineries. I could easily come here every day (Not just on vacation, literally every day)." - Sarah M.
VISIT

3269 3/4 C Road
Palisade, Colorado 81526
7
Connecticut: Taylor Brooke Winery
"What a special place. Did a full tasting (15?!) for a super-reasonable price, deliberated over the list with a glass or three more and built a case purchase. A first for me." - Jonathan M.
VISIT
848 Route 171
Woodstock, CT 06281
8
Washington, DC: District Winery
"Gorgeous space, beautiful location, and delicious food!" - Rachael P.
VISIT
385 Water Street SE
Washington, DC 20003
9
Delaware: Salted Vines Vineyard & Winery
"Amazing amazing wine with enough selection to please any palate...The staff is incredibly friendly and were the best part of the experience. The wine slushees are amazing, the atmosphere is beautiful. Definitely a must-do." - Abigail R.
VISIT
32512 Blackwater Road
Frankford, DE 19945
10
Florida: Aspirations Winery
"What a find! We miss the wineries of Virginia after moving to Florida from the DC area, and this little gem was a welcome find! Phenomenal wine and quaint atmosphere. Don't be fooled by the location- it's tucked away in a very unassuming spot. But the minute you walk through the door, you'll be glad you came!" - Just M.
VISIT
22041 US Highway 19 N
Clearwater, FL 33765
11
Georgia: The Cottage Vineyard & Winery
"What really makes The Cottage stand out from other North Georgia wineries is the breathtaking view it offers...The tasting room is surrounded by mountains and looks down on a couple small houses and fields in the distance." - Laura N.

VISIT
5050 Highway 129 N
Cleveland, GA 30528
12
Hawaii: Volcano Winery
"Not sure what they put in that volcanic soil, but it sure makes some good wine. Located five minutes from the entrance to Volcano National Park, this winery is a great place to stop if you need a break from hiking and lava and whatnot." - Audrey S.
VISIT
35 Pii Mauna Drive
Volcano, HI 96785
13
Idaho: Parma Ridge Winery
"The winery sits atop a hill and is easy to find and plenty of parking. We enjoyed our dinner. We had the steak and salmon meals that were cooked to perfection. The wine choices were many. Wow!" - Bobby B.
VISIT
24509 Rudd Road
Parma, ID 83660
14
Illinois: August Hill Winery Tasting Room
"The August Hill Winery Tasting Room will make you feel like you are in Napa. Stop in for a wine tasting and to see the art." - Jennifer R.
VISIT
106 Mill Street
Utica, IL 61373
15
Indiana: Oliver Winery
"Beautiful ambience. Excellent service. Delicious wine everywhere. Reasonably priced." - Chesla N.
VISIT
200 E Winery Road
Bloomington, IN 47404
"Great wine! Amazing garden/patio. Truly a gem in the middle of Iowa. I wish we could have stayed longer. I highly recommend this place." - Bobbi S.
VISIT
1755 P Avenue
Marengo, IA 52301
17
Kansas: Grace Hill Winery
"We absolutely love this place! Fell in love with Grace Hill the 1st time we visited the winery! So much so we had our wedding reception here! We love coming every time we are in KS!" - Anna V.
VISIT
6310 S. Grace Hill Road
Whitewater, KS 67154
18
Kentucky: Talon Winery & Vineyard
"Beautiful vineyard. Tastings are a must...There is live music at various times throughout the weekend." - Kacie B.
VISIT
7086 Tates Creek Road
Lexington, KY 40515
19
Louisiana: Pontchartrain Vineyards
"This is the best winery in Louisiana, hands down. The Southern climate makes it hard for certain grapes to grow so most wineries don't have the kind of top notch selection offered here. Ponchartrain offers wines from their own locally grown fruit, and imports California grapes to make all of the standard favorites." - Jesse B.
VISIT
81250 Highway 1082
Bush, LA 70431
20
Maine: Cellardoor Winery
"How cute is this place. The winery is pretty much a huge barn that they modernized but kept all the original wood from back in the day." - Diane H.
VISIT
367 Youngtown Road
Lincolnville, ME 04849
21
Maryland: Crow Farm & Vineyard
"Great food and wine. Beautiful views from the rooms. Perfect romantic getaway or a place to spend some quality time with friends." - Sarma R.
VISIT
12441 Vansants Corner Road
Kennedyville, MD 21645
22
Massachusetts: Boston Winery
"The wine was exquisite and the service was just as impressive...I can't say enough great things about this place. I would highly recommend this to anyone looking for great wine and amazing service!" - Lauren F.
VISIT
26 Ericsson Street
Boston, MA 02122
23
Michigan: L Mawby Winery
"Everything here is sparkling and it's all pretty good...The wine descriptions are really spot on—if you're looking for a bubbly wine that is reminiscent of a floral hip-hop diva or candied smooth jazz, you've come to the right place." - Andrea E.
VISIT
4519 S. Elm Valley Road
Suttons Bay, MI 49682
24
Minnesota: North Shore Winery
"Fantastic place, beautiful building, good wine, excellent people. Really enjoyed the tasting. Good selection of wines produced from CA grapes. Will be back for sure." - Drew P.
VISIT
202 Ski Hill Road
Lutsen, MN 55612
25
Mississippi: Old South Winery
"This place is a gem! The wine is delicious and refreshing! This is a family run and owned business and they are some of the sweetest, kindest, and friendliest people! I love the southern hospitality and the sweet muscadine wine! I will definitely be coming back!" - Mike H.
VISIT
65 S. Concord Avenue
Natchez, MS 39120
26
Missouri: KC Wineworks
"Man, I just adore this place. It's such a cute little urban winery located right in the Crossroads." - Cassie D.
VISIT
1829 McGee Street
Kansas City, MO 64108
27
Montana: Yellowstone Cellars & Winery
"Wine, ambiance, service—all EXCELLENT. Definitely worth the stop to sip good wines made with passion and care." - S.D.
VISIT
1335 Holiday Circle
Billings, MT 59102
28
Nebraska: Brother Sebastian's Steak House & Winery
"Mannnnnnnnnnnnn! I lived in Omaha nearly all my life. I moved to the East coast 4 years ago. I came to Omaha to visit and decided to try Bro Seb. Now I'm mad at myself. This place is divine. I'll be here when I return. In fact, I might return just to come here." - Alyssa P.
VISIT
1350 S. 119th Street
Omaha, NE 68144
29
Nevada: Pahrump Valley Winery
"Took the drive out from Vegas to check out this winery, it was totally worth the drive. The food was delicious...The wine is of course amazing...Would highly recommend you try this place!" - Erik J.
VISIT
3810 Winery Road
Pahrump, NV 89048
30
New Hampshire: Hermit Woods Winery
"My first thought was—isn't wine supposed to come from grapes? Well, apparently if it's done well, wine can be made from all sorts of fruits. This place is super cool. Great wine, knowledgeable staff. Definitely check it out if you are in Meredith." - Marissa K.
VISIT
72 Main Street
Meredith, NH 03253
31
New Jersey: Valenzano Winery
"Such a wow experience! Go here! Go here!! Go here! The property is beautiful...The service was immaculate and welcoming. I'm not a wine drinker however it was a nice Saturday visit." - Vinnie B.
VISIT
1090 Route 206
Shamong, NJ 08088
32
New Mexico: Gruet Winery - Santa Fe
"I loved everything about Gruet! The space is beautiful. Small, intimate beautiful furniture, and finishes. The staff is so kind and helpful...I went here a few times during my stay because I enjoyed it that much!" - Jessica W.
VISIT
210 Don Gaspar Avenue
Santa Fe, NM 87501
33
New York: Ports of New York
"What a lovely place, run by a lovely man who tells great stories & spouts knowledge about winemaking, calvados making & spirit making with a great passion." - Little G.
VISIT
815 Taber Street
Ithaca, NY 14850
34
North Carolina: Noni Bacca Winery
"Gracious pours, friendly staff, and excellent wine!... A great place to kick back with loved ones!" - Angie S.
VISIT
420 Eastwood Road
Wilmington, NC 28403
35
North Dakota: Fluffy Fields
"Love this place! Great for relaxing to a glass of wine. The atmosphere is superb! I recommend trying the wine sampler until you find your favorite. Their food is delicious, too!" - Kayla M.
VISIT
2708 21st Street E
Dickinson, ND 58601
36
Ohio: CLE Urban Winery
"Great atmosphere! There was live music, wine filled donuts and a great staff. This is the kind of place I've been looking for." - Tamika L.
VISIT
2180B Lee Road
Cleveland Heights, OH 44118
37
Oklahoma: Water's Edge Winery - Oklahoma City
"Water's Edge easily takes 1st place for both setting and quality of wine when compared to the other OKC area wineries. Dim light, soothing classic music, and modern decor make this spot an oasis for wine sipping and relaxation." - Heather F.
VISIT
712 N. Broadway Avenue
Oklahoma City, OK 73102
38
Oregon: Seven of Hearts Wine
"Such a great experience! You get to create your own flight (some with chocolate!) in a relaxed environment with friendly service. I'll be recommending this place to my friends for sure!" - Rachel S.
VISIT
217 W. Main Street
Carlton, OR 97111
39
Pennsylvania: Blue Ridge Winery
"I had such a great experience at this winery. While we were there they had a band, a food truck, and a vendor selling a variety of cheeses to enjoy with your wine...In my opinion, they are also the most scenic and beautiful location on the NEPA wine trail we were on." - Ashley M.
VISIT
239 Blue Ridge Road
Saylorsburg, PA 18353
40
Rhode Island: Verde Vineyards
"I love this small slice of heaven in Johnston! Tucked away on a dirt road. The owners are so sweet and accommodating. The wines are so good...They have lovely outdoor seating in the shade or in the sun and a chicken coup! Bring a picnic, buy a bottle or 2...3...sit back and stay the day!" - Holly S.
VISIT
50 Hopkins Avenue
Johnston, RI 02919
41
South Carolina: City Scape Winery
"We LOVE City Scape! Their wine is amazing and if you've never tried it, I definitely suggest the premium wine tasting package. You will not be disappointed!" - Gabrielle R.
VISIT
589 Dunklin Bridge Road
Pelzer, SC 29669
42
South Dakota: Prairie Berry Winery
"Excellent food, wine selections and atmosphere. Furbabies welcomed on the patio. Enjoyed a quick bite to eat and several selections of wine. The kids enjoyed the chocolate cake." - Shellie S.
VISIT
23837 Highway 385
Hill City, SD 57745
43
Tennessee: Tennessee Homemade Wines
"Amazing! My favorite wines that I have ever tasted!...We bought three bottles which came with two wine glasses and 10 percent off. I don't know what I'm going to do when we run out!" - Ryan and Teddy R.
VISIT
643 Parkway
Gatlinburg, TN 37738
44
Texas: Pontotoc Vineyard
"Best experience by a very knowledgeable local vineyard owner. Phenomenal wine. Amazing bread and cookies...Don't miss this place." - Scott H.
VISIT
320 W. Main Street
Fredericksburg, TX 78624
45
Utah: Old Town Cellars
"Cozy atmosphere, very comfortable, great wine, knowledgeable, friendly staff. A can't miss!" - Kingsland C.
VISIT
890 Main Street
Park City, UT 84060
46
Vermont: Boyden Valley Winery & Spirits
"If you're in Burlington, you should definitely take a short ride to check this place out!...I've been to many tastings and this is the best so far!!!" - E.B.
VISIT
64 Vermont Route 104
Cambridge, VT 05444
47
Virginia: Zephaniah Farm Vineyard
"We highly recommend Zephaniah Farm for a friendly, earth-conscious winery tour in a beautiful natural setting...Their historic home is at once beautiful and cozy, providing a peaceful place to sit down for a tasting and focus on the wines." - Dawna N.
VISIT
19381 Dunlop Mill Road
Leesburg, VA 20175
48
Washington: Palouse Winery
"Great winery, superb grounds, and really epic wine...I also appreciated the live music and my kids really liked the toys in the garden." - Sarah S.
VISIT
12431 Vashon Highway SW
Vashon, WA 98070
49
West Virginia: Chestnut Ridge Winery
"It was a great treat for me and my family with its tasty wine to its awesome views and welcoming owners...I would recommend this place for wine lovers and those looking to sit back and relax. I will definitely be back next year!" - Aprill K.
VISIT
15 Chestnut Ridge
Spencer, WV 25276
50
Wisconsin: Von Stiehl Winery
"I'm a member here because I love their wine. They have a huge selection of pretty much anything you could want, but their reds are especially delicious...Check out this winery—it's awesome!" - Jessica M.
VISIT
115 Navarino Street
Algoma, WI 54201
51
Wyoming: Jackson Hole Winery
"Fantastic wine experience. Fabulous wine and great story of evolution. If you're a oenophile you need to go!" - Mew W.
VISIT
2800 Boyles Hill Road
Jackson, WY 83001