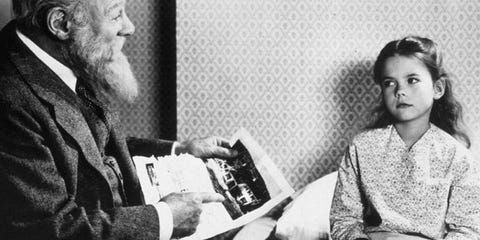 In 1947, Miracle on 34th Street made the world believe in Santa Claus (we bet even skeptics' warmed to the holiday magic a little more that year). But hiding behind the actors' stunning performances, the beautiful screenplay and all those iconic Christmas scenes are some interesting things you probably didn't know.
1
The co-stars were super tight.
In her autobiography, Maureen O'Hara (Doris) revealed that even after the long days of filming, Edmund Gwenn (Santa), John Payne (Fred) and her would hang out together on their nights off, strolling 5th Avenue.
2
The Thanksgiving Day Parade scene was actually completely real.
It's true — Gwenn made thousands of people happy when he appeared as Santa in the actual 1946 Macy's parade. Cameras were set up along the route to film the entire thing.
3
Gwenn's cousin almost played the role of Kris Kringle instead.
Cecil Kellaway was originally asked to play Santa, but declined. Funny enough, though, he did play Santa on an episode of Bewitched years later.
4
The film's writer dreamed up the idea waiting in line at a department store.
It's only fitting that Valentine Davies was inspired by the peak shopping season of an ever-more commercialized Christmastime.
5
John Payne really wanted to do a sequel.
Another revelation from O'Hara's autobiography: Payne believed in the film so much that he even wrote a sequel for it. "He was going to send it to me, but tragically died before he could get around to it," O'Hara wrote. "I never saw it and have often wondered what happened to it."

6
Macy's and Gimbels didn't consent to have their names in the movie until filming was completed.
Studio executives knew they would need the stores' permission to use their names in the end, but didn't want either store to see or comment on the movie until it was completed. It was a big risk, but luckily, everything worked out in the end.
7
O'Hara never wanted to the film to be colorized.
In 1985, Miracle on 34th Street was one of the first films to be colorized, resulting in some controversy from film purists who believed it should remain black and white — O'Hara included.
8
Natalie Wood thought Gwenn was really Santa Claus.
Either he did such a good job as Kris Kringle (or Wood was just a staunch little Santa believer) that the 8-year-old actress actually thought he was Santa.
9
Macy's closed early so the employees could see the film.
12,000 workers got a half day to go see it.
From: Good Housekeeping US