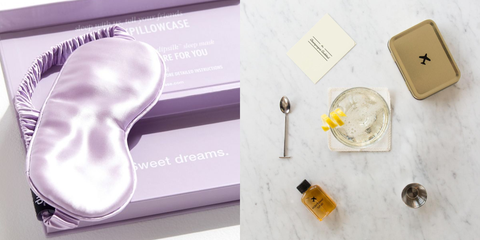 Traveling for the holidays—as much as you might love your destination and have fun when you get there—can be super stressful. Airports are crowded, lines are long, and leg room is totally limited. So, how do you make your flight as painless and stress-free as possible? You stock up on products that will help you relax and tune out the rest of the world. Seriously, add these to your shopping list, and you might actually find yourself glowing and well-rested (and with a fully charged phone, might I add) when you arrive.
The Trtl pillow allows you to adjust it for maximum neck support, so you never have to worry about waking up at the end of your flight with neck pain.
Make it easier to doze off mid-flight with a ultra luxe silk eye mask that blocks out any pesky light.
3
Pembrook Fleece Travel Blanket
If you get cold on flights, cozy up under this fleece blanket that rolls up small enough—and comes with a handle—to easily carry on the plane with you.
4
Bose QuietComfort Noise-Cancelling Headphones
Block out any unwanted or disruptive sounds with these noise-cancelling headphones for peaceful music-listening or napping.
5
Carry-On Champagne Cocktail Kit
Treat yourself to a better airplane beverage with a carry-on cocktail kit (there are multiple drinks to choose from), which includes all the fixings you need to mix up a perfect drink. Just get some liquor from a flight attendant, and you're good to go.
6
On the Fly Travel Skin Treatment Kit
If you're tired of the havoc flying wreaks on your skin, try this travel skin treatment kit—it has all the sheet masks you need to totally glow when you deplane.
7
Pinch Provisions Airplane Mode Travel Kit
This mini emergency kit for flights has everything you could ever need—tissues, stain removers, hand lotion, ear plugs, breath refresher, a phone stand, bobby pins. You name it.
If you're in the market for a new suitcase, this carry-on luggage from Away has a removable USB battery, meaning you can charge your phone easily on the go without having to stress over finding an outlet.
9
Anker PowerCore Portable Charger
Or you could invest in a portable charger like this. It can repower your iPhone up to 7 times on a single charge of its own.
10
FLIO the Global Airport App
This app (it's free!) helps you track flights, navigate airports, find food and get access to lounges, so you don't have to worry about getting lost or going hungry.