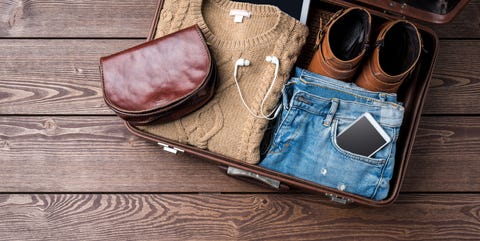 LeszekCzerwonka
Getty Images
As much as taking a trip is fun and exciting, traveling can also be pretty stressful, and I'm not just talking about the always-long security line at the airport. Packing is almost always a frustrating chore—how are you supposed to fit everything you need into one tiny suitcase? It's like a game of Tetris that's impossible to win. With the right tools (like packing cubes, compression bags, and garment folders), though, you can totally make it work.
Say goodbye to messy, over-stuffed suitcases with the following easy items. All that's left to do now is to book that vacation you've been planning in your head.
1
CALPAK x Oh Joy! Packing Cubes
Packing cubes might just be the best thing you can invest in, because you can divide up different items among them—shirts in one, socks in another, a space for laundry, etc. This set of 5 is super cute and has little spaces to insert labels so you know exactly what's what.
Keep all your chargers and headphones in one easy-to-access place with this travel cord roll. It also ties up to save as much space as possible in your bag.
You can fold 5 to 10 clothing items in each of these garment folders (they come in a set of two) and they help keep your clothes organized and wrinkle-free.
4
Iconic Travel Pill Case
If you take daily medications or vitamins (and need to spot them quickly), a cute pill case like this one keeps all your bottles from rattling around amid the clothes.
5
Multi-Pocket Handbag Organizer
Keep your carry-on bag as organized as possible with this handbag insert, which has pockets for just about everything you can think of.
6
Stackers Travel Jewelry Wrap
If you travel with multiple jewelry options, you need a jewelry wrap like this one, with dedicated sections for rings, earrings, bracelets, and necklaces.
7
Portable Luggage System
A one-two punch: this organizer divides up your suitcase and then can be hung right up in a hotel closet so you can unpack with ease.
8
Eagle Creek Translucent Pack-It Cinch Sac
This cinch bag has pockets for all your toiletries or other small essentials, and the padding on the bottom keeps things upright in your bag.
9
Acrodo Compression Travel Bags
An easy hack for when you can't fit all your clothes? Put them in roll-up compression bags like these. All you have to do is open them for your clothes to fluff right back up to normal.
And of course, a luggage scale will help you ensure that your bag isn't too heavy for any airline or other travel requirements you might have to meet.