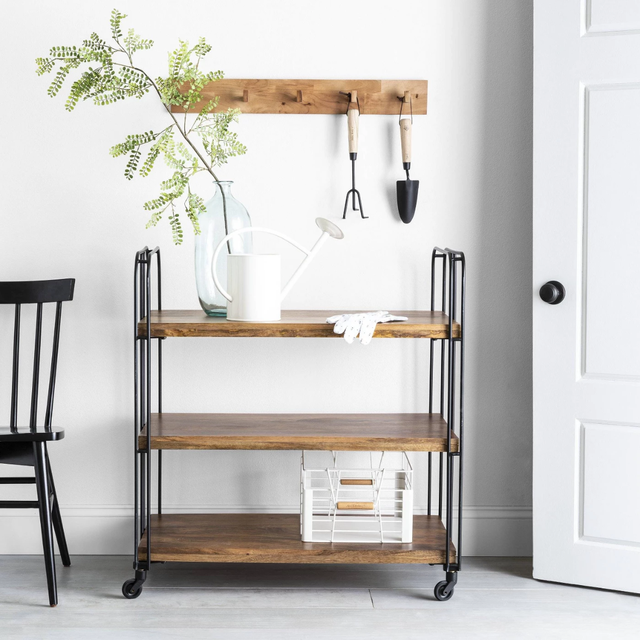 As a dedicated plant parent, you and your houseplants deserve the best. You could use any old plastic or metal watering can, but with so many cute, stylish, and downright sculptural options out there, why not give your basic watering can an upgrade? Whether you want to keep it simple or add a big splash of color, these watering cans look great as decor items and must just remind you to water that fiddle leaf fig. It's a win-win.
Haws Mini Heirloom Watering Can
In a soft, pale mint blue, this mini watering can is perfect for smaller indoor plants.
Anthropologie
anthropologie.com
$58.00
This gilded watering can features a rattan handle, and it's so stunningly sculptural, you'll be proud to display it on any shelf.
Green Stainless Steel Watering Can
Smith & Hawken™
target.com
$14.99
Just like your thriving plants, this stainless steel watering can comes in the sleekest shade of green.
VATTENKRASSE Watering Can
In ivory and gold, this ultra-affordable option looks more like decor than a watering can for your plants.
Anthropologie
anthropologie.com
$29.95
Turn your watering can into art with this stoneware option that features a purple botanical motif.
A partnership between The Sill and West Elm, this blush pink beauty also comes in white or brass.
Diamond Indoor Watering Can
This dark graphite option certainly is a gem, thanks to its unique diamond-shaped body.
Hearth & Hand with Magnolia
target.com
$14.99
With a handle that loops right over the base to the spout, this simple white watering can stands out from the crowd.
Score this sleek watering can from Danish design brand HAY in terra-cotta or light gray.
Bosmere
onekingslane.com
$45.00
Add some vintage-inspired flair to your indoor garden with this tiny polished brass watering can.
Svante Brass Watering Can
finnishdesignshop.com
$90.40
This watering can barely looks like a watering can, but it definitely gets the job done—all while looking like a modern decor piece.
You can find these leather watering cans in two shades (brown and natural) for a unique twist.
Haws Heritage Watering Can
A bright pop of blue mixed with brass and wood accents make this a fun, colorful option.
Go full-on sleek with this simple stainless steel watering can that features an extra long spout.
This matte white stoneware watering carafe doesn't draw too much attention to itself, but it looks beautiful on any windowsill.
See More Cute Home Products