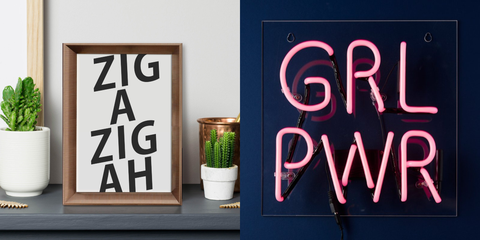 Do you hear that? It's the sound of '90s girls everywhere collectively screaming and breaking out their scrunchies. Why? Because the Spice Girls are officially reuniting for a tour in 2019. The tour will be a limited run in the U.K., so if you're not already based there, you might just have to invest in a plane ticket. And, unfortunately, the band will be down a member—Victoria Beckham, AKA Posh, will not be joining the tour—but don't worry, because Sporty, Scary, Baby, and Ginger will still be there to fulfill your pop nostalgia dreams.
Tickets for the tour go on sale on Saturday, Nov. 10 at 10:30 a.m., and you can follow the band's official account for updates. But in the meantime, you can always celebrate this amazing news by adding a little extra girl power and '90s nostalgia to your life and your home. This Spice Girls décor is sure to do the trick, whether you can make it to the tour or not.
1
'All You Need Is Positivity' Print
This print is for you if you prefer a subtle touch of Spice.
2
Spice Girls Illustration Throw Pillow
Or, go all out with this throw pillow, complete with an illustration of the whole band.
3
'Zigazigah' Lyrics Print
You know you wanna (really, really, really wanna...)
This neon sign might be the best way to show off your girl power vibes.
5
Spice Girls Autograph Clock
You can always hang this wall clock, complete with copies of each of the girls' autographs.
Go bold and hang this print of your favorite girl gang.
7
Spice Girls Names Pillow
No need to even pick your favorite.
8
'Spice Girls Vibes' Mug
Can you think of a better way to start your morning?
9
Spice Girls 'Spice' Vinyl LP
And of course, you can display this vinyl LP of their most iconic album.