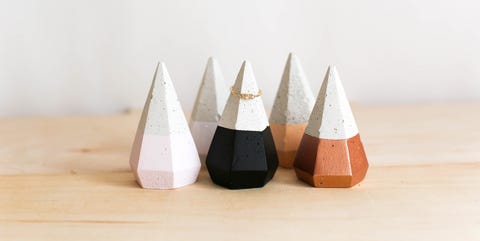 Your favorite jewelry is more than just an accessory to your outfit — it can be an accessory in your home, too. The right organizers will either blend right in to your home as decor (think jewelry cabinets that double as cool mirrors) or make your favorite necklaces, rings, and more stand out as art (AKA wall displays). Whether you're a strictly-earrings kind of person or you have more rings, necklaces, and bracelets than you know what to do with, these jewelry organizers have your back — your earring backs, that is, because you'll never lose one in your house again.
Keep all your studs in one spot with this organizer that folds open for easy earring access.
2
Metronome Jewelry Stand
With a jewelry stand like this, your favorite necklaces will look more like decor.
3
Mounted Mirror Jewelry Cabinet
To hide away a lot of jewelry, try this locking cabinet that hangs over the door (or mounts on the wall) and acts like a mirror.
If you wear a lot of rings, these cones are exactly what you need for keeping them in one spot and showing them off.
5
Alma Tabletop Jewelry Storage
Bracelets and necklaces can hang from this organizer's hooks, while the acrylic panel is perfect for all of your earrings — the dish below is just a bonus.
6
Hanging Mirror Jewelry Display
Half mirror, half necklace storage — all style.
7
Golden Branch Jewelry Stand
The gilded branches of this jewelry tree will hold up earrings, rings, necklaces, and bracelets — basically, whatever you need.
8
Standing Mirror Jewelry Armoire
If the aforementioned mounted cabinet isn't enough for you, this standing mirror opens up and offers storage space for more than just jewelry.
9
Marble Lidded Jewelry Box
You can't go wrong with a sleek and stylish jewelry box, and this marble-lidded one is simple but stunning.
Close it, and it can act like a regular jewelry box. Keep it open, and it's a display and a getting-ready space.
11
Kamilah Mirror Earring Organizer
Where better to store your favorite earrings than in front of a mirror poised to help you put them on?
Hang necklaces and display knickknacks from this mountain-shaped, wall-mounted organizer.
13
Crystal Jewelry Organizer
The crystal details on this organizer add so much glamor, and there's room for plenty of jewelry.