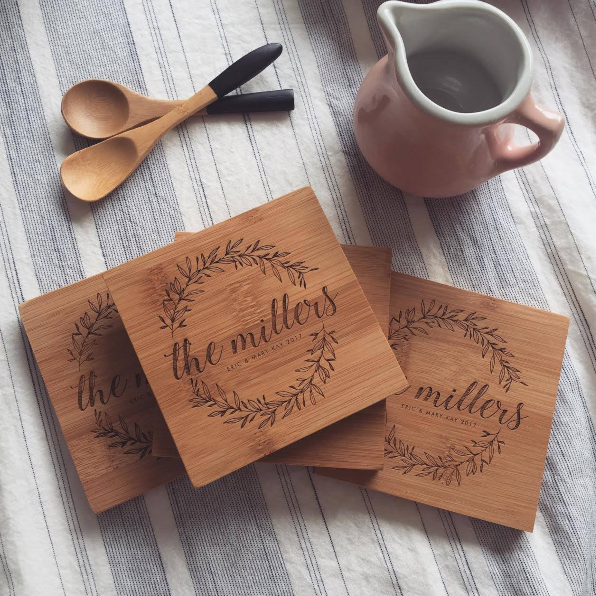 Moving into a new place is so exciting—there's something so fun about making the place your own (not to mention, having an excuse to decorate!). But, of course, the whole moving process also has a tendency to become overwhelming, too. That's why a thoughtful housewarming gift is more than just a gesture; it can genuinely ease their transition and get them psyched about their space all over again. Even if right now, all they can see is the long list of to-dos ahead of them.
Finding that just-right gift can be tricky though. You want to buy something that's considerate and aesthetically pleasing, something the new homeowners will truly enjoy. Not to mention, it should also be useful in some way, whether it helps them in the kitchen or just looks beautiful holding a bouquet. Whether your friends and loved ones like decor with serious style or items with more of a sense of humor—or they just love monograms and personalized touches (and honestly, who doesn't?)—there's a little something for everyone here. And at every price point, too, since there are plenty of options under $25 to choose from.
DoTakeItPersonally
etsy.com
$11.95
The only thing better than having a towel nearby to clean up a mess is one with a saying so funny you'll literally laugh out loud as you clean up said spilled milk.
Any baker will appreciate this gorgeous pie dish, perfect for serving up their favorite dessert at their next post-housewarming party.
SunWallArt
etsy.com
$38.89
Celebrate the city they're from—or the city they just moved to—with this sleek custom city map art print, which can be made with any city in the world.
Some sweet personalized embroidery art will help make their new house feel like home sweet home.
MetalUnlimited
etsy.com
$39.95
Since your freshly-moved-in friend might not have gotten around to decorating yet, give them a custom monogram that will help others find a house they've never been to before.
6
Congrats on Your Happy New Home Candle
helloyoucandles
etsy.com
$23.00
Not only can you print a personalized message on the back of the gift, but you can also choose from more than 20 scents, like chocolate chip cookie and pink champagne.
7
Tiled Margot Monogram Mug
You can never go wrong with a stylish mug, especially one this beautiful with a monogram for a nice personal touch.
8
Personalized Home Portrait Ornament
MagicMarkingsArt
etsy.com
$50.00
If your friends celebrate Christmas, this hand-painted custom ornament will ensure they never forget the year they moved into their new home.
9
Personalized Wooden Coasters
WoodBeMine
etsy.com
$28.00
A set of coasters this cute ensures that no one in the house will ever forget to use them—no water stains in their future!
Ensure that your friends never have to write out their return address again with a handmade, pre-inked custom rubber calligraphy stamp like this one.
11
Succulent Ceramic Magnet
CoastalMoonArt
etsy.com
$15.00
Plants make great housewarming gifts, but if you're worried about whether or not they have a green thumb, start off small with one of these adorable succulent magnets.
12
Vintage Palm Decorative Vase
Drew Barrymore Flower Home
walmart.com
$24.00
If you'd rather stick to the traditional flowers, don't just grab a bouquet—a chic vase gives them somewhere to put it, too.
13
French Kitchen Marble Wine Cooler
crateandbarrel.com
$29.95
A bottle of wine is fine, but it's better if you add something they can use long past their housewarming party, like this marble wine cooler. And as a bonus, this one doubles as a vase or a planter, so they can give it an alternative use if they prefer.
14
Crowned Crystal Bottle Stopper
Speaking of wine, a beautiful bottle stopper can't hurt—it'll help them preserve their favorite leftover bottle when the housewarming party is over.
For the friend who has just moved to a new state and is feeling a little homesick, these state-scented candles will make them feel right at home again.
16
New Home Skeleton Key Ornament
BERKLEYandBEAN
etsy.com
$44.00
This skeleton key ornament comes with a hand-stamped address tag, and it can be hung just about anywhere in your friend's new home (even on a Christmas tree!).
17
Personalized Cutting Board
StampNouveau
etsy.com
$39.99
Housewarming parties and food go hand in hand, which is why any host will appreciate this personalized board to serve their snacks
18
Kitchen Essentials Herb Planter
Get their new herb garden started with these grow kits, featuring herbs like basil, cilantro, and parsley.
A coat hook with your friend's initials will look right at home in their entryway, and they'll be sure to get tons of use out of it.
20
Personalized Grocery Tote
Up2ournecksinfabric
etsy.com
$9.74
A gift that's both cute and totally practical? Stylish, customized grocery totes—it'll make carrying their groceries easier (and plastic-free!).
21
Woven Wine Tote with Glasses
Outdoor entertaining just got easier with this woven wine tote that lets you carry a bottle and glasses (it has handles for six!) which it comes with, by the way.
22
Gold Monogrammed Drinking Glasses Set
DanaeSupplyCo
etsy.com
$65.00
You really can't go wrong with a good monogram, as these beautiful gold initial drinking glasses prove.
These state-shaped wooden cheese boards are a fun and useful way to pay homage to where they're from, or where they just moved to.
This bread warming blanket does more than your average cloth napkin—it features a removable, microwaveable flax seed packet to keep bread extra warm before serving.
Celebrate the state your loved ones live in with this custom string art wall decor. The heart can be placed anywhere you want it—whether that's in the capital city, or another city if they live elsewhere.
Claus Porto
anthropologie.com
$26.00
Luxurious soaps are always a good idea, and these colorful, macaron-esque soaps prove it.
TheCheekyDoormat
etsy.com
$45.00
Real talk: Whose home doesn't run on these three things? Show your friend you know them all too well with a brand-new doormat.
28
Custom House Number Plaque
TheWoodsCollective
etsy.com
$69.00
A custom house number plaque like this one is a great gift for helping your new homeowner friends really settle in.
29
Home is Wherever I'm With You Blanket
Help your new homeowner friends stay cozy with a throw blanket that's also a reminder of what home really means.
When in doubt, a gift card (tucked inside a thoughtful card, of course!) does the trick—it lets them get exactly what they want or need for their home, after all.