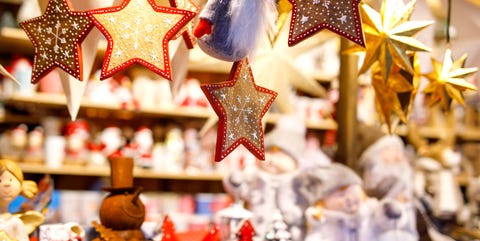 'Tis always the season to be jolly if you ask me and a lot of year-round Christmas and holiday shops would certainly say the same. Because it's never too early to feel the magic of the season, especially if that means picking up the hottest home decor to deck your halls.
Of course, no matter where you live there's a different store that brings all the merriness and brightness, so compiling a list of the 50 best, one from each state, was a necessity. Yelp helped us do so by looking at the star rating and number of reviews for businesses mentioning "holiday decorating." The results are nothing short of magical and will certainly get you into the holiday spirit.
1
Alabama: Dixie Wreaths by Marypat
"I love my wreath made by Marypat...They are all handmade and shipped to me with care. They are very detailed and many of my friends loved the ones I had on my door. I will definitely order more in the future." - Judy S.

VISIT

107 Eden Lane
Huntsville, AL 35811
2
Alaska: Santa Claus House
"It's your childhood dreams coming true! It's always Christmas in here. Lots of decor items and you can get a picture clicked with Santa all year round. Make sure to check out the reindeer!" - Anisha R.
VISIT
101 Saint Nicholas Drive
North Pole, AK 99705
3
Arizona: Feliz Navidad Sedona
"Love me a year-round Christmas store. The store was so cute! I wandered around and saw ornaments, decorations, large Santas, and tons of unique Arizona style decor. Some things are pricey but they have items for any budget." - Phylicia K.

VISIT

336 State Rte 179, Suite A116
Sedona, AZ 86336
4
Arkansas: Handmade Holiday Shop
"This is a must find shop for all of your holiday shopping. There is something here for that person that is impossible to shop for. Locally made art and craft at its best! Jewelry, pottery, soap, leather, so much goodness!" - Adam M.

VISIT

239 Central Avenue
Hot Springs, AR 71901

5
California: Roger's Gardens
"This was a wonderful way to start the holiday. With the most brilliant Christmas lights and decorations I'd ever seen in one place, Roger's Gardens was a delight for the senses." - Tami D.
VISIT
2301 San Joaquin Hills Road
Corona Del Mar, CA 92625
6
Colorado: Christmas in Manitou
"This shop was just breathtakingly beautiful. So many different types of Christmas ornaments. Aside from the standard ornaments they also carried locally made ornaments and ornaments with blank spaces that the clerk would personalize for you at no additional cost...If you go you'll fall in love, I did." - Ruben G.

VISIT

726 Manitou Ave
Manitou Springs, CO 80829
7
Connecticut: The Pink Sleigh
"This is the best Christmas store I have ever seen! It has the feel of a barn stuffed to the rafters with more than you could imagine. Best of all, everything is unique...Here you get the impression everything has been picked out with care, just for you." - Kate G.

VISIT

512 Essex Road
Westbrook, CT 06498
8
Delaware: Seaside Country Store
"I'm a big fan of their Christmas ornaments, and they feature items for Halloween and Thanksgiving as well. Plenty of shore themed items, mostly home decor and entertaining (platters, glasses, etc). This is not your typical tacky plastic souvenir shop, and well worth a visit." - Jennifer F.
VISIT
1208 Coastal Highway
Fenwick Island, DE 19944
9
Florida: Robert's Christmas Wonderland
"If you are looking for anything Christmas, this is the place for you! This store is amazing. In addition to all the decorations and ornaments, they have a very large back room. In there you will see the most beautiful display of the most gorgeous Christmas trees you have ever seen! They have Christmas trees, ornaments, indoor decorations, wreaths, lights, things for train set-ups, cards, outdoor decorations. They have too much to list. You just have to go check them out for yourself." - Laura M.
VISIT
2951 Gulf To Bay Boulevard
Clearwater, FL 33759
10
Georgia: Helen Christmas Shoppe
"A cute shop for most of your ornament needs! Stop by if you need some festive ornaments for your holiday's!" - Kelly A.

VISIT

8749 N Main Street
Helen, GA 30545
11
Hawaii: Waikiki Christmas Store
"Paradise style Christmas comes alive with a store full of tropical-themed ornaments and decorations." - Karlo G.
VISIT
2552 Kalakaua Avenue
Honolulu, HI 96815
12
Idaho: Pinehurst Floral & Greenhouse
"You will pay a premium, but you won't find better flowers anywhere" - Kyle G.
VISIT
4101 Poleline Road
Pocatello, ID 83202
13
Illinois: Christkindlmarket Chicago
"The shops are great so be prepared to do some holiday shopping! You can find some really unique handmade ornaments and Christmas decorations. There are plenty of other treats to indulge in too. I would suggest the roasted almonds and potato pancakes—yum!" - Jacqueline B.

VISIT

50 W Washington Street
Chicago, IL 60602
14
Indiana: Twelve Months Of Christmas
"Love this place!! They have hard to find Christmas items as well as wonderful versions of easier to find the items." - Deanna M.

VISIT

915 15th Street
Bedford, IN 47421
15
Iowa: Aunt Joy's Personalized Christmas Stockings
"Fantastic products and great service! Aunt Joy works with your order to make sure everything looks just right, and coordinates between stockings. We are SO pleased with the stockings she's created for our family—they match the designs online, but are made with different (but complementary) patterns." - Nathan P.
VISIT
1017 66th Street
Windsor Heights, IA 50324
16
Kansas: Red Door Home Store
"They do a fantastic job decorating the store for the season (it looks particularly enchanting set for Christmas). They have a lot of unique items at reasonable prices and have a small area for clearance items...It's definitely a place worth checking out if you're shopping for home decor and furniture." - Kathryn K.

VISIT

2131 SW Fairlawn Plaza Drive
Topeka, KS 66614
17
Kentucky: Chelle Belle's Creations
"I now have a new favorite shop. The employees and owner are GREAT! If you see something you like and want to add your own flavor, there's no problem they will fix it the way you want it. I highly recommend!" - Lesia Jones Woods

VISIT

2942 Yorkshire Boulevard
Louisville, KY 40220
18
Louisiana: Santa's Quarters
"This place is heavenly for Christmas lovers!!! Endless ornaments and nuts crackers from all around the world. Everything you need for Christmas is here! It was one of my highlights in New Orleans." - Bashar K.

VISIT

1025 Decatur Street
New Orleans, LA 70116
19
Maine: Christmas Spirit Shop
"Christmas Spirit Shop continues to be my favorite Christmas shop in town...The ornament I got this year is absolutely gorgeous and as always, the personalization was free. Such a great place to pick up a couple of Christmas gifts from your vacation!" - Kayla C.

VISIT

80 Main Street
Bar Harbor, ME 04609
"Love Mondo Deco! Small, locally owned shop that stocks local and international crafts & homewares. The owners, Leigh and Jesus, are very friendly and will help you find the perfect gift." - Amy G.

VISIT

3431 Greenmount Avenue
Baltimore, MD 21218
21
Massachusetts: Oakwood Farm Christmas Barn
"Even Scrooge himself would find an ornament here...It is a must-visit for any Christmas-lover and appreciator of classic New England charm." - Lorre F.

VISIT

1 Northwest Road
Spencer, MA 01562
22
Michigan: Bronner's Christmas Wonderland
"What a great Christmas store, it is huge! Lots and lots of ornaments and Christmas villages...There is so much to see, we only had an hour to visit before heading back home, can't wait to come back for a visit." - Stacey V.

VISIT

25 Christmas Lane
Frankenmuth, MI 48734
23
Minnesota: Kathe Wohlfahrt of America
"I first shopped at Kathe Wohlfahrt in Germany and was very pleased to discover a shop in the US. The quality and detail are superb. They have a good selection. I try to visit whenever I am in Minnesota." - Sue H.
VISIT
129 S Main Street
Stillwater, MN 55082
24
Mississippi: The Lucky Rabbit
"I could literally spend hours roaming through the two floors looking at the antiques, Mississippi products, and even having a couple of beers from the draft machine! It's an amazing place that definitely offers something for everyone. Can't wait to have the opportunity to go back. If I won the lottery, this would be the first place I'd go!" - Brandi P.
VISIT
217 Mobile Street
Hattiesburg, MS 39401
"Nell Hill's is a feast for the eyes. There's a reason design-obsessed people come from all over the world to experience it and why Mary Carol has been profiled often in international publications. What she has created is unique and different and fun." - Karen P.

VISIT

4101 N Mulberry Drive
North Kansas City, MO 64116
26
Montana: Christmas Emporium of Philipsburg
"It has wonderful holiday decorations...The people working there are hospitable and friendly. Prices are reasonable and the layout is nice for a small store. They have a lot to offer for the size." - J.R.K.

VISIT

134 W Broadway Street
Philipsburg, MT 59858
27
Nebraska: Tannenbaum Christmas Shop
"Everything Christmas awaits you at Tannenbaum Christmas Shop. I was happy to stumble across this place when visiting the Old Market neighborhood in Omaha since it's my tradition to collect ornaments from everywhere I visit. The shop looks small from the outside, but through some sort of dimension-shifting, Harry Potter-type magic it opens up to reveal a much larger space." - Erin D.
VISIT
1007 Howard Street
Omaha, NE 68102
"The store is really cool and has unique items for all rooms of your house that you will not find anywhere else." - Jake A.
VISIT
9850 S Maryland Parkway, Suite 4
Las Vegas, NV 89183
29
New Hampshire: The Christmas Dove
"This store has anything and everything you may need for Christmas...If you love Christmas you NEED to stop here!" - Lauren O.

VISIT

11 Christmas Lane
Barrington, NH 03825
30
New Jersey: Perfect Christmas Tree Farm
"The farm is filled with love. They have an incredible selection of trees and a charming Christmas shop filled with antique ornaments and decorations." - John S.

VISIT

999 US Highway 22
Phillipsburg, NJ 08865
31
New Mexico: The Shop A Christmas Store
"Lovely shop owners and wonderful selection. Super cozy shop. You walk in and immediately feel excited for Christmas!!!!" - Lark L.
VISIT
116 E Palace Avenue
Santa Fe, NM 87501
32
New York: House of Holiday
"I have died...and gone to Christmas-filled heaven! I felt like a child when I walked in. So giddy and excited! This place has everything you could want from a two floor huge building filled wall to wall of Christmas trees, lawn inflatables, lights, garland, nutcrackers, giant wooden soldiers, OMG just everything...I will definitely make this a yearly tradition with my family!" - Kaity P.

VISIT

90-02 Atlantic Avenue
Ozone Park, NY 11416
33
North Carolina: Christmas Shop
"This place is awesome! It's a place to get any kind of unique Christmas gifts at the Outer Banks of NC. It's a one of a kind place. I love going every time I visit my family." - Stacy L.

VISIT

621 Highway 264
Manteo, NC 27954
34
North Dakota: Zandbroz Variety
"What a great eclectic place—you are bound to find something for a gift for someone. Carefully chosen selection of books, jewelry, housewares, and lots of random stuff." - Jason H.
VISIT
420 Broadway
Fargo, ND 58102
"If you love Christmas you will really enjoy this place. Carols playing in the background, decorations everywhere, Christmas trees decorated with creative themes, just a magical place if you're in the mood." - Estera P.

VISIT

4363 State Route 39
Millersburg, OH 44654
36
Oklahoma: North Pole City
"North Pole City curates the best Christmas merchandise. Their displays are works of art. I genuinely feel my spirit being lifted when I walk into their store." - Seth S.
VISIT
4201 S I 44 Service Road
Oklahoma City, OK 73119
37
Oregon: Sleighbells Farm & Gift Shop
"IT'S WINTER WONDERLAND at Sleighbells. Our family has been coming here for several years and each year this place gets better and better!!" - Lisa H.

VISIT

23855 SW 195th Place
Sherwood, OR 97140
38
Pennsylvania: Byers' Choice
"Byer's Choice is a really cool place. Although tours are year round, it's beautiful during the holidays and free! I know tons of people who collect the carolers, and they are beautiful. It's neat watching the workers make the dolls." - Cas M.

VISIT

4355 County Line Road
Chalfont, PA 18914
39
Rhode Island: A Christmas To Remember
"Beautiful ornaments, it's easy to get lost in this store for hours. Well organized, friendly service, and great variety." - Silvia R.
VISIT
130 Thames Street
Newport, RI 02840
40
South Carolina: Bailey's
"When I am in Hilton Head, this is a must...They have the greatest ornaments and Christmas decorations and I purchase 1 or 2 items each time. This is not your typical store with cheap items. I've purchased very unique items as well as Radko, Mark Roberts, Glitterazzi ornaments over the years. Will be back next year! Highly recommend this store!" - B.W.
VISIT
147 D Lighthouse Road
Hilton Head Island, SC 29928
41
South Dakota: Christmas Village
"Christmas on crack! If you love Christmas shops as much as I do then you will not be disappointed by this gem. Many different themes of ornaments with the store nicely laid out. Be sure to check out the sale room in the back of the shop, found some great deals though I thought the prices in general throughout the store were reasonable." - Eric R.

VISIT

13548 S Highway 16
Rapid City, SD 57702
42
Tennessee: Christmas Done Bright
"Great store and great customer service. Loved seeing all the [holiday] lights in person." - Joey Sturgeon

VISIT

114 N Main Street
Springfield, TN 37172
43
Texas: Blue Genie Art Bazaar
"Always great handmade gifts. Some pricey, some great deals, all unique. This is my second year in a row to make some Christmas purchases. I've always content. Probably will be part of my Christmas shopping places." - Kyle S.

VISIT

6100 Airport Boulevard
Austin, TX 78752
"Knot + Spool is an aesthetically pleasing store that is so fun to shop at here in Holladay...They carry a wide array of beautiful gift wrap, cards, paper garlands, seasonal gifts, handmade items, etc." - Amanda R.
VISIT
6088 S Highland Drive, Unit D
Holladay, UT 84121
45
Vermont: The Christmas Loft
"The Christmas Loft was awesome!! Great for adults and kids of all ages!" - CJ G.

VISIT

3155 Shelburne Road
Shelburne, VT 05482
46
Virginia: The Christmas Attic
"Whether you've been naughty or nice, The Christmas Attic is the perfect place get your Santa fix. This quaint little shop is loaded with enough ornaments, decorations, and Christmas kitsch that would make even the Grinch smile. So blow your flew-flewbers, bang your gar-grinkers, and beat your tom-tooklers my little Cindy Lou Whos, because this festive oasis has all your holiday needs." - Jeff C.
VISIT
125 S Union Street
Alexandria, VA 22314
47
Washington: Butter Home
"Very charming little shop. Sort of like a very miniature Anthropologie home section—all rustic and cute and very pricey. Many local goods, though—handmade jewelry and the like. I bought two felted dryer balls, a felt mistletoe (can be used every year and much prettier than those plants with the white plastic berries!), and a layered, flexible silver bracelet." - I P
VISIT
1531 Melrose Avenue
Seattle, WA 98122
48
West Virginia: Tenfold Fair Trade Collection
"Wow! This is one of the best shops in Harpers Ferry...Everything in the store is made by women and men overseas from recycled jewelry and bags, sterling silver rings, home decor, accessories, holiday items, and more!" - Jem J.
VISIT
180 High Street, Suite 1A
Harpers Ferry, WV 25425
49
Wisconsin: Kristmas Kringle Shoppe
"This store is amazing!!!!! It's Christmas all year round...they have such unique items and collectibles...You can buy from the trees and wow, I have no words. I could spend hours here." - Tiffany B.

VISIT

1330 S Main Street
Fond Du Lac, WI 54935
"While in Cheyenne for business, I stopped in here to do a little Christmas shopping. What a great place! Three rooms full of stuff with everything from bedroom sets to grill items to jewelry to knick knacks, if you don't find something to buy, shame on you! There are quite a few items that are made by local artists. Upcycled items are here too." - Kyle K.
VISIT
216 W Lincolnway
Cheyenne, WY 82001