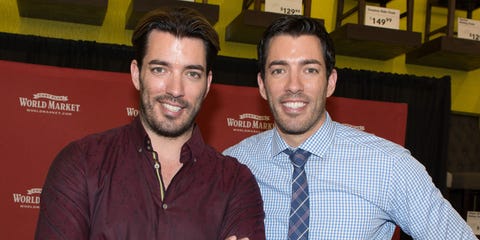 Property Brothers fans, listen up! There's now an easy and super affordable way to infuse your home with the Scott brothers' signature style — no six week renovation, $40,000+ reno budget or television appearance required.
Drew and Jonathan Scott's new furniture line at Lowe's rolls out in stores and online today. The "Scott Living Furniture Collections" features hundreds of pieces for living rooms, bedrooms, kitchens, and bathrooms, starting at $113. Throughout the collection, you'll find a range of designs fit for the farmhouse of your dreams — there are oh-so-many rustic wood finishes and beautiful creamy neutrals to fall in love with.
The HGTV hunks have also launched an online showroom, which makes it easy to see exactly how they would style the furnishings in a home. To save you some time, we combed through the collection and selected our 15 favorite items for country homes. Take a look:
BUY NOW: $588 for set of 2, lowes.com

These would look divine in a living room, or around your dining room table.
2
Platform Bed with Storage
BUY NOW: $868, lowes.com

This timeless design features drawers for added bedroom storage.
BUY NOW: $364 for set of 2, lowes.com

You had us at "bourbon finish."
BUY NOW: $160, lowes.com

This tree trunk tabletop adds the perfect touch of nature wherever you place it.
5
Natural Mango Console Table
BUY NOW: $609, lowes.com

This rolling storage cart makes the perfect addition to your kitchen, dining room, living room, craft nook or entryway.
6
Natural/Black End Table
BUY NOW: $279, lowes.com
The crank handle lets you adjust the height.
7
Honey Sheesham Dining Bench
BUY NOW: $274, lowes.com

Use this at your kitchen or dining room table, or place it near an entryway or mud room for added seating.
BUY NOW: $466, lowes.com

The black brackets and wheels beautifully complement the worn-down wood.
BUY NOW: $901, lowes.com
This stunning chevron piece will be one your children look forward to inheriting.
BUY NOW: $973, lowes.com

This one-of-a-kind serving table and storage unit features contrasting brown and gray wood.
11
Natural Honey Wood Edge Dining Table
BUY NOW: $682, lowes.com

Each table features natural knots to make it feel special and unique.
12
Farmhouse Kitchen Island
BUY NOW: $522, lowes.com

Instantly create more prep area and storage space in your kitchen with this countrified rolling island.
BUY NOW: $363, lowes.com
This beauty also comes in gray and blue.
BUY NOW: $625, lowes.com
This neutral and versatile bed will perfectly complement pieces you already own.
15
Gray and White Accent Chair
BUY NOW: $425, lowes.com
You'll never grow tired of this plaid-clad piece.