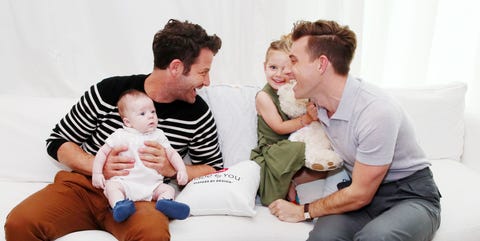 Astrid Stawiarz
Getty Images
A little PSA for those who are unaware: Cozy and chic are not mutually exclusive. They're not. Don't believe me? Just ask fan-favorite interior designers Nate Berkus and Jeremiah Brent of TLC's Nate and Jeremiah By Design, who've officially debuted their upholstery collection at Living Spaces.
Nate + Jeremiah's collection features seating in customizable colors and fabrics that were hand-curated by the couple themselves and inspired by different aspects of their own lives. "Every choice you make in your home matters," the couple begins in a promo video for the line, adding, "Your home should reflect who you are and what you love most." After checking out the collection, here's what our editors are coveting.
1
Whitley 3 Piece Sectional
livingspaces.com
$2,395.00
Not only is this three-piece sectional stunning, but it's a must-have family room solution inspired by a vintage piece in Nate and Jeremiah's home.
I personally adore this clay color, but if it's not the right match for your room, you can customize the fabric in stores to your liking.
While this piece is definitely elegant, it is also very functional, making it the perfect chair to add to your home.
This velvety citronella fabric is an absolute showstopper. It's a fresh change from the dusty pastels and millennial pink velvets that have been popular over the past few years.
5
Norah Accent Storage Ottoman
Nate and Jeremiah "set out to create a practical and comfortable storage piece, and their Norah storage ottoman delivers on both promises." My heroes.
If you loved the Ames chair, but want a larger option, you need the h-yet-clean-lined Ames sofa. Obsessed.
7
Chloe Accent Cocktail Ottoman
Though I could imagine this material would get very dirty if I sat on it all the time, it's so sumptuous it'd be hard not to gravitate toward it. Soft is an understatement.