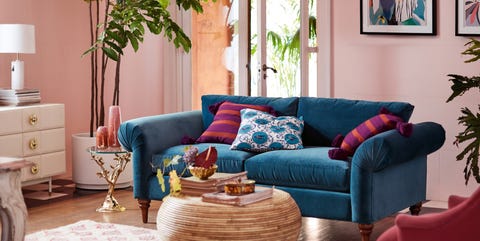 Few things say spring quite like a redecorated home and few stores offer such a wide variety of colorful, fresh home decor and furniture as Anthropologie. So when their Spring 2019 collection became available online today, I immediately added everything to my cart...no lie.
Whether you are a looking for items with maximum impact or want to go a more natural, "organic" route, there's something for everyone. Here are some of the best pieces from the collection—just try not spend your entire savings (or do, who am I to say...I won't blame you.)
No matter what the weather is like outside, this handcrafted rattan bed designed by Justina Blakeney will make your home feel ten times warmer.
2
Rug-Printed Accent Chair
Kick things up a notch with a printed accent chair or two. These rug-prints are not only unique, but a fun way to add subtle color to your space for the seasons ahead.
Perhaps my favorite part of this natural rattan coffee table (also handcrafted) is the compartments perfect for neatly storing books and other items that could otherwise clutter up your table.
4
Scroll Vine Inlay Vanity Table
Could getting ready in the morning be any more exciting? Plus, there's a matching stool you could purchase with it.
Slightly less pricey than thr beloved Gleaming Primrose Mirror, this Swansong mirror adds the perfect touch of elegance to a room, two little bird friends.
6
Natural World Coffee Table
You can even bring the intricate rattan trend into your living space with this gorgeous natural coffee table.
Add storage, but make it unique. This round bookshelf is perfect for any room of the home.
8
Natural Chime Chandelier
Of course, Anthro's lighting selection is always one of the hardest things to resist. This natural chime chandelier is the perfect example of such.
Depending on which size and design you choose for the Elza vase, prices range from $32 to $68 and they are each hand painted with the perfect spring prints.