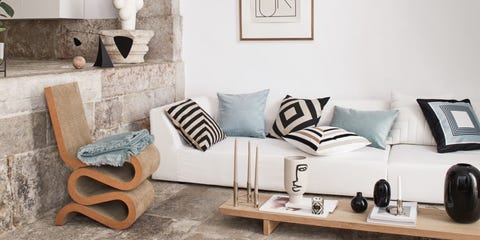 As winter rounds its final bend (please?!), stores are rolling out their new collections and homebodies are sprucing up their homes for the season to come. H&M Home is particularly excited for spring, and if you're feeling the same itch, their Season Switch campaign is exactly what you need.
You'll have to act fast, though, because many of the 56 items in this pre-spring collection are already out of stock. Bummer, we know. There are plenty of things to love that are still available. The below items are perfect for the minimalist looking to freshen up any space—from living room to bathroom and everything in between.
1
Metal Candlestick Holder
This candlestick holder is so simple yet sophisticated. It holds three 3/4"-wide candles.
This braided bread basket in light beige is made of 100 percent bamboo and is just under two inches high, so it's very versatile.
3
Cotton Velvet Cushion Cover
This chic velvet cushion cover comes in nine colors. Yes, nine! So if you are in the market for one, not only is this under $10, but chances are you'll find the colors you need. We're particularly obsessed with this dark green, the beige, and the burgundy.
Have a whole tea party with this adorable light turquoise teapot and the matching set of stoneware plates, bowls, and mugs.
Play host or hostess with this silver tray, which also functions as a gorgeous kitchen-decor item.
We are truly tempted to buy all six colors of this soft throw blanket.
Spring cleaning isn't complete without a fresh bathroom, am I right? Try switching out simple items like your bath mat and shower curtain to bring it back to life.