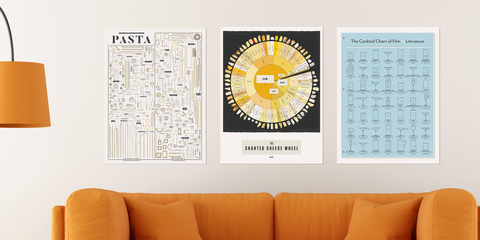 Finding the perfect gift for everyone on your holiday list can be a bit of a challenge, especially if you're trying to find thoughtful gifts that appeal to everyone's unique interests. Pop Chart is a great destination for niche gifts, since you can find prints and mini-prints with cool, intricate charts in just about every category from food and drinks to movies, books, music, and more. And just in time to get your holiday shopping done early, you can now score 30 percent off site wide—not to mention, free shipping on top of that.
To take advantage of this exclusive deal at Pop Chart, just choose your favorite prints and enter the code SKIMPOP at checkout. The sale starts today (Nov. 7) and lasts for 7 days, so you have until Nov. 14 at 11:59pm ET to score major savings. You can shop the full sale at Pop Chart, or check out some top picks below.

1
The Distinguished Drinkeries of New York City
This map of New York City spotlights all of the top bars, a great gift for beer, wine, and cocktail aficionados alike—as well as the city dweller in your life.
2
The Permutations of Pasta
A chart that breaks down every shape of pasta ever so neatly might just be the perfect gift for your favorite carb lover—just think how cool it would look framed in their kitchen.
3
The Cocktail Chart of Film & Literature
We all know someone obsessed with books and movies who also appreciates a good drink, and this is definitely the print for them.
4
Magical Objects of the Wizarding World
For the Harry Potter fan in your life, consider this chart breaking down all of the magical objects in the wizarding world, from wands to quidditch equipment.
5
The Charted Cheese Wheel
Not to be cheesy, but this wheel of every type of cheese is the perfect gift for all your foodie friends—at least those who aren't lactose intolerant.
6
The Chart of Hand Tools
There are over 300 tools illustrated on this chart, making it a fun gift for dads, husbands, and handy folks all around.
For the friend who's never short a glass of wine: this map of all the wineries in Napa is a winning gift idea.
Or, appeal to your craft beer-loving friends with this diagram of all the types of beer you can brew.
This chart of every emoji ever, organized by color, would be a cool addition to a teen's room or a dorm, and will make a great gift for anyone who's always seen phone-in-hand.
10
The Alphabet of Animal Professions
And for kids, this chart has some pretty adorable animal illustrations and will help them learn their ABCs. A win-win, honestly.