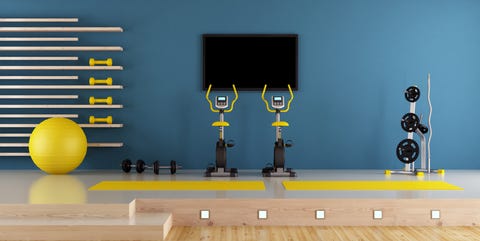 archideaphoto
Getty Images
Let's call it what it is—working out is literally the worst. Having to take extra time out of your day to travel somewhere to work out is enough to make you want to skip exercising altogether, but if your gym is in your house, that makes it a little bit easier to get motivated. Exercise equipment is often the antithesis of chic, so you're going to have to get creative with how to make it look polished. Whether you've got a spare room, a corner, or outdoor space, we've got gorg home gym ideas for you on this list.
1
Namaste All Day With This Converted-Shed Idea
2
Make Your Gym Do Double-Duty As An Organization Station
If you want to make sure you actually sneak in regular sweat sessions, you're going to need a schedule. Hang up a white board and use it to plan your monthly workouts. Pro tip: Fun colors make exercise a little less painstaking.
See more at A Bowfull of Lemons.
3
Opt For A Varsity-Inspired Gym
Freestanding lockers and a shower door hanging give this spare room so much character. If it looks like an actual gym, you might take the task more seriously.
See more at Sawdust 2 Stitches.
4
Bring On The Monday Motivation
Your quotes board is finally coming in handy. Add motivational sayings to your wall so you have something to keep you going when you're ready to call it quits.
See more at Polished Habitat.
5
Embolden Yourself With A Jolt Of Color
Liven up your home gym with color and pattern. From the fan, to the blue floor, to the wall art—this room is getting us amped up already.
See more at In My Own Style.
6
Create A Workout Space That Doesn't Stress You Out
Choose a calming wall color and trick your brain into thinking you're doing something way more relaxing than an early morning workout actually is. Safe bets are light blue, sea green, and blush.
See more at DesignThusiasm.
7
Roll With This Clever Storage Idea
The struggle of finding spots to store yoga mats is real. They're always falling over or unrolling at random, but this wall hanging helps keep them in place and ready for your next workout.
See more at Gray House Studio.
8
Make Your Gym Feel As Luxe As Equinox
Don't underestimate how much of an impact a vase of fresh flowers can make. To keep you prepped for your workouts, stock a mini fridge with waters and line up some towels.
See more at DesignThusiasm.