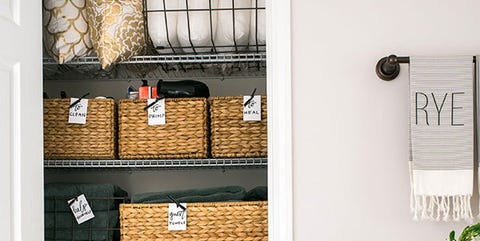 Courtesy of Waiting On Martha
If clutter is your middle name, a linen closet might seem like your nemesis, but we've got you. It's never to late to clean up your closet (and keep it that way) — you just might need a little nudge in the organized direction. We've rounded up some inspo to help get you started. Spoiler: Start with some labels, bins, and a giant trash bag. Get ready to purge.
If you can pair down your closet this much, you're a rockstar. The less clutter there is, the more sane you'll be.
See more at Julie Blanner.
This simple linen closet corrals sheets, towels, makeup, and bathroom supplies in wicker baskets. Then, it swaps a basic hamper for a vintage French laundry basket. Très chic, non?
See more at Liz Marie.
3
White & Blue Linen Closet
So fresh, so clean. Keep extra toilet paper rolls in a giant wire basket to keep them from rolling all over the place.
See more at Simply Organized.

Folded towels and wash cloths are a given, but we're obsessed with this trick for hair supplies. Use plastic containers to hold all your hair ties, then store your brushes and hot tools in a basket next to them.
See more at Kellynan.
5
Wicker + Wire Linen Closet
Using the same kind of basket throughout can be boring (and confusing). Keep it more visually interesting and differentiate your baskets contents by choosing two different types of storage bins.
See more at Waiting On Martha.
When you've got a lot of stuff stacked on your shelves, color can make it look even more chaotic and cluttered. Stick to neutrals to keep things clean and streamlined.
See more at Dear Lillie.
Skip the generic bins and organize your linen closet in a more personal way. Vintage baskets, antique boxes, or even old trunks can hold your extras and be totally functional.
See more at Finding Home Farms.
If the thought of displaying folded towels and sheets gives you serious anxiety, hide everything with baskets. Label them according to what's inside, and everything will stay organized far longer.
See more at Honey We're Home.
If you're lucky enough to have the height, use it. Stack lesser used linens (cold-weather quilts or extra sheets) on the top racks, and keep more everyday items like towels and extra bath products down low.
See more at The Creativity Exchange.
Less space = more need for organization. Use one shelf for everything: toilet paper, hair supplies, towels, nail polish, and extra products.
See more at The Honey Comb Home.