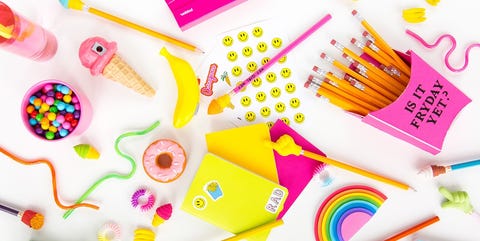 Going back to school sucks just as much for you as it does for your kids. Sure, you get them out of the house, but now you have to listen to them complain about tests and homework, and you get the giant bill for all their new school supplies. But we can eliminate the latter with some seriously cute DIY options. They're easy to make, so you won't lose your mind in the crafting process, and we guarantee your kids will love them. Once you're on a DIY roll, you can try out these creative ideas for a school locker.
Donuts, ice cream, fries — gang's all here!
Get the tutorial at Aww Sam.

Finally, notebooks they'll actually be stoked to use. Whether they'll use them for taking notes or passing notes, though, we can't guarantee.
Get the tutorial at Momtastic.
If you want to make an extra one of these for yourself, we wouldn't judge.
Get the tutorial at Aww Sam.

The secret to these super fun and colorful thumbtacks? Nail polish!
Get the tutorial at Modcloth Blog.
If their desk is organized, maybe they'll actually sit down and do homework. (LOL, one can dream).
Get the tutorial at Lovely Indeed.
All the 😍😍😍 for this one.
Get the tutorial at PBTeen.
Brown-bagging it never looked so chic.
Get the tutorial at The Gracious Wife.
Not your average 3-ring binder situation.
Get the tutorial at Home Made By Carmona.
These Anthropologie-inspired pencils will make art class even more fun than it already is.
Get the tutorial at Carolyn's Homework.
Swirls on swirls. This DIY is so fun, your little ones will be psyched to do it with you. (Unlike those 50 projects you've started and finished solo, after they got bored halfway through.)
Get the tutorial at DIY Candy.