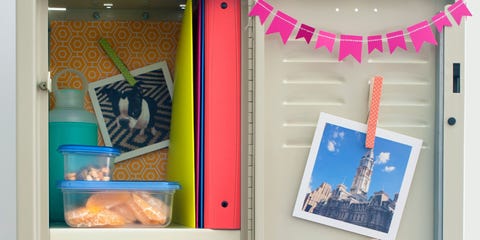 It's the time of year again where your kids are going to be hounding you for cash for new clothes and school supplies that'll make them actually want to crack open a textbook. Don't let their lockers be another expense to add to the list. We've rounded up plenty of creative ways to DIY locker decor that aren't only cute, they're totally functional, too. Don't be surprised if you want to steal a couple of these for your home office.
1
Make a Ziploc Weekly Calendar.
Spoiler: Dry erase markers wipe off a Ziploc bag like magic.
Get the tutorial at Ziploc.
2
Show Off Your Mood With Emoji Magnets.
Now when your friends leave you notes, you can tell how they really feel without reading between the lines.
Get the tutorial at The Surznick Common Room.
3
Glitterbomb Clothespins To Make Glam Photo Hangers.
Hang up pictures of you and your squad in style.
Get the tutorial at The Proper Blog.
4
DIY Your Own Locker Pockets.
Why are you even surprised that these Duck Tapes pockets are insanely sturdy?!
Get the tutorial at Fiskars.
5
Have A Place For Everything With This Homework Caddy.
Behold: Your locker organization problems, solved.
Get the tutorial at Aunt Peaches.
6
Make It #ThrowbackEveryday With This Retro Accessory.
Corral books, extra supplies, or snacks in these cool vintage bins made out of plastic containers.
Get the tutorial at Adrienne Elizabeth.
7
Create Your Own Faux Druzy Magnets.
The most glam way to pin up all your notes and due-date reminders.
Get the tutorial at Sisoo.
8
Use Sleek Shopping Bags As Organizers.
Not that we have a ton of spare Tiffany's bags lying around, but if we did, this is how we'd use them.
Get the tutorial at Le Zoe Musings.
9
Corral Loose Papers Easily.
Don't toss your cereal boxes just yet — you can totally upcycle them into magnetic bins to hold papers, notebooks, and more.
Get the tutorial at Soho Sonnet.
10
Build In Some Bookshelves — With Hardly Any Effort.
The school didn't put them in, but that doesn't mean you can't.
Get the tutorial at Thrifty Fun.