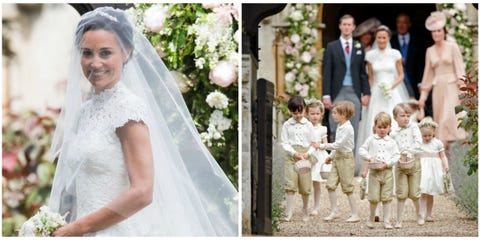 Pippa Middleton and James Matthews' wedding, from the blush-pink accents to the all-kid bridal party, was one for the books — and if the royal wedding was any indication, is about to burst with trends inspired by Pippa's nuptials. Here are the must-copy, Pippa-approved trends to expect during wedding season.
Simple elegance ruled Pippa Middleton's wedding day — including the flowers. Small and compact enough to rest comfortably in one hand, Middleton's miniature bouquet was composed of peony, sweet pea, astible, freesia, waxflower, green bell and alchemilla mollis, reported Brides UK. While overflowing bohemian bouquets have dominated as of late, expect minimal, paired-down varieties on future aisles.
2
Flowers: Blush Pink Florals
The lavish floral displays (by Lavender Green Flowers) and the bridesmaid's bowed dresses (custom designed by Pepa & Company) had one thing in common — blush pink! Expect the soft, romantic hue in just about every contemporary wedding's centerpieces, bouquets and flower arches. Sue Barnes, founder of Lavender Green Flowers, told People that in shade, scent and style, Pippa's flowers "reflected the British countryside in early summer and were filled with fragranced flowers including Sweet Peas, Peonies, garden Roses, Philadelphus, Freesia, Astilbe, and Jasmine. All designs were made to measure and were totally bespoke, taking hours to create and perfect — it really was a labor of love!"
Since Pippa Middleton is virtually the most famous bridesmaid of all time (we all remember that dress), it was fitting that she pull out the stops for her own bridal party. Per royal etiquette, it would have been inappropriate had Kate Middleton served as her sister's Maid of Honor, so Pippa opted for the next-best thing: Her niece and nephew! Prince George, alongside Casimir Tatos, Edward Sebire, and William Ward, served as a page boy and Princess Charlotte, in addition to Countess Philippa Hoyos, Lily French, and Avia Horner, was a bridesmaid. Kids in stockings, pale-pink bows and beige trousers make for a much cuter group photo, don't you think?
4
The Dress: "High" Necklines
We have another royal to thank for the stunning high-neckline on Pippa's custom Giles Deacon gowngown: Queen Victoria. While Giles Deacon's interpretation is undoubtedly contemporary — the "high" neck hits just above the base of Middleton's throat — it's a subtle homage to prestigious English marriages of the Victorian Era. Beyond history, the modest neckline is visually stunning and actually works to elongate the neck — something every modern bride wants, especially come photo-op.
Pippa is no stranger to the cap-sleeve — she wore the style, with a lace-trimmed cowl-neckline, to her sister's wedding in 2011. While strapless has long-since ruled the bridal boutique, long-sleeve gowns became en vogue after the Duchess of Cambridge debuted an Alexander McQueen gown, designed by Sarah Burton, at her own wedding. Expect shortened variations, with sleeves hitting just below the shoulder, all over your wedding boards this year.
6
The Dress: Head-to-Toe Lace
Pippa Middleton's floor-sweeping lace gown is rumored to have cost over $50,000 — that number begins to make a bit more sense when you realize the pain-staking intricacy of its creation. "The bespoke silk cotton lace was hand appliquéd to create an illusion of the dress having 'no seams'," designer Giles Deacon told Glamour. "The lace bodice is embroidered with pearl detailing over an organza and tulle underskirt, which has layer upon layer to enable a floor-sweeping movement." While lace has always been a wedding staple, we're predicting more of the traditional fabric in modern summer and spring gowns (albeit at lower price points).
7
The Dress: Open Heart Backs
Giles Deacon described the gown's cut-out detail as heart-shaped — quite appropriate for a wedding. A far cry from the trendy open-backed Instagram gown, the subtle flash of skin offered a nice contrast to the gown's front, which, with a corseted, high-necked bodice, was about as modest as it gets. Cut-outs have been on-trend for some time now, but expect to see more heart-shaped open-backs on runways and aisles.
Pippa Middleton upgraded a simple low-bun up-do with a custom Robinson Pelham tiara and accompanying headpiece, which hit just above her bun and held her veil in place. Crafted with diamonds and 18-karat white gold, both headpieces were selected with balance (and Pippa's dress!) in mind. "You do not want the dress and tiara to fight, so one has to take a back seat," Robinson Pelam co-founder Zoe Benyon told Vogue. Based on popular demand, it might be the dresses taking the back seat. Recently, the British jewelers have noticed an increase in tiara requests — something they have the Middletons to thank for. "We have made and resurrected more tiaras in the past five years than in the 10 years before that," Benyon said on the growing trend.
If you take one thing away from Pippa Middleton's nuptials, it's this: Don't overlook the minutiae. The ceremony's smallest detail — a sketch by Kate Middleton that appeared on the wedding programs, pictured here in the hands of Jane Matthews, the mother of the groom — became one of the most heartfelt, beloved touches of the day. If the public's response to the Duchess of Cambridge's contribution is any indication, small doodles by little ones or meaningful hand-drawn images are perfect ways to dress up overlooked pamphlets.
Middleton and Matthews took a hint from Prince William and the Duchess of Cambridge and exited their wedding in a priceless Jaguar E-type sports car. Following William and Kate's nuptials, the pair drove around the royal grounds waving to the crowds in Prince Charles' convertible Aston Martin. While it might be difficult for the rest of us to locate ultra-rare getaway cars, Pippa's flashy exit might inspire couples to rent a speedy little convertible as they jet into their new life together. For the sake of acting like a royal (or a least a royal's sister), you'll want to skip the cans.