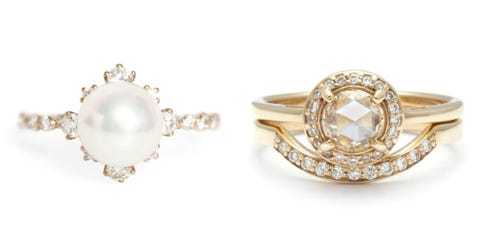 Most women wear their engagement ring every day, which means they want it to embody their personality. If you're traditional, you know what to do. But for trendy ladies, jewelers are always incorporating new styles into their ring collections, and these are the biggest designs of the moment.
Colorful Stones
Move over, diamonds. Colorful stones, like sapphires, emeralds and yellow diamonds ($18,900, ) are what brides who want to make a statement on their hand every single day are looking for on their band.
Rose Cut
This diamond cut features a faceted dome-shaped stone. This style ($6,600, ) dates back to the 16th century and is a favorite amongst those with vintage tastes. (Even Jennifer Aniston has one!)
Rose Gold
It's no surprise this trendy metal has taken over engagement rings, too. The best part? The deep pink color of the band ($12,000, ) makes the diamond shine even brighter.
Double-Row Diamonds
Just like they say trends always come back into style, this mid-century modern design ($3,500, ) is back, too. We're sure any bride would adore it, because two rows of diamonds is always better than one.
Stacked Rings
Heads up, guys: Many brides are embracing this trend where the wedding ring stacks perfectly into the engagement ring ($6,000, ). If your bride favors this style, it's something to keep in mind when picking our your big purchase.
Art Deco
The mark of this vintage style is bold, geometric cuts. This ring ($11,300, ) embraces the glamour of this era with a fan-like motif of six baguette cut diamonds and six single cut diamonds.
Black Diamonds
There's a reason everyone owns a little black dress: It's classic and goes with everything. Similarly, we bet any bride lucky enough to wear this black ring on her finger ($5,000, ) would have no problem accessorizing her band with her wardrobe.
Oval Cut
Instead of the traditional round cut diamond, ovals have been making waves as of late. This ring ($15,200, ) also features bead set diamonds around the oval to help it appear even bigger.
Pearl Rings
If you always have a string of pearls around your neck, your engagement ring should be no exception. This stunning statement ($3,850, ) is just as beautiful as a diamond and features a snowflake motif on the band to add a little glitz and glamour.
Twists on Pave Settings
Most pave settings feature a single band filled with diamonds to support the main stunner on top. But this ring ($4,600, ) features a band that splits into two near the base of the diamond, adding a vintage flair to the setting.
Diamond Clusters
The best thing about the cluster ring trend is that you can mix and match a variety of sizes (and prices!) of diamonds for your liking. This one ($4,693 to $5,172, ) features seven different stunning stones.
Twisted Bands
It's not just the diamond that matters these days. Bands are taking over, as seen here (price upon request, ), thanks to unique twists and overlapping designs that bring texture to classic styles.
Morganite Rings
There's a reason this peach-colored stone is the next big thing in colored rings: It's super feminine and also super affordable — which this stunning ring ($249, ) definitely proves.
Pear Cut
Just like oval cuts are becoming more popular, so are pear cuts, which are also known as teardrops. Case in point: This stunning ring ($15,200, ) is the dream gift for a traditional bride with a little edge.
Floral Accents
When it comes to the intricate details surrounding the diamond, flowers, petals and leaves are everywhere. We love how subtle and simple the nod to this style is in this ring ($3,600, ).
Наш интересный веб портал , он рассказывает про
готовые шторы с ламбрекеном
.
Был найден мной популярный сайт , он описывает в статьях про
www.maxformer.com
.