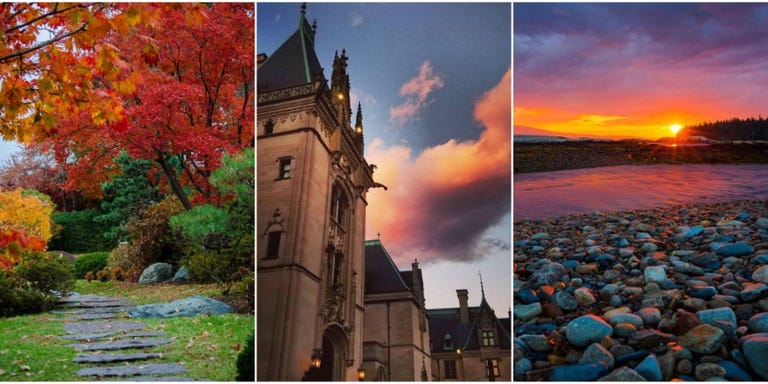 With spring just around the corner, it's high time to get outside and use nature as your recreational playground. , a trend that has been gaining popularity with millennials, is the movement of enjoying outdoor attractions as life experiences, whether those places are gardens or monuments you've been wanting to mark off your bucket list.
"Many millennials view the outdoors as something that starts at their front door, is part of everyday life, and is best experienced with friends and family," plant trends expert Kate Karam says. "Floratourism reflects millennials' more minimalist lifestyle — they want unique experiences instead of material objects."
If you've been meaning to take that trip you've always wanted (remember that is real), take a hint from the millennials, and get outside!
is a 1.45-mile long elevated park in New York City that was built on a portion of the New York Central railroad that was once used from 1934 to 1980. Today, it's a serene escape nestled in the middle of the city.
The in Asheville, North Carolina, is America's largest home with 250 rooms. Plan a stay at the lavish estate, or view the newest exhibition, which features award-winning costumes from films inspired by literary works found in George Vanderbilt's 22,000-volume library.
What was once a 400-acres fruit farm that produced walnuts and Bartlett pears in the Ygnacio Valley of California is now a nonprofit public dry garden. Today, the 3.5-acre , featuring a collection of succulents, is protected by a conservation easement, which guarantees that the property will always be a garden in honor of its founder Ruth Bancroft. 
4
Missouri Botanical Garden
The located in St. Louis, is full of year-long opportunities to enjoy the beautiful gardens and greenery. In February smell beautiful blooming Orchids, in September see floating water lilies, and in December enjoy a Garden Glow Family Night. 
5
Desert Botanical Garden
The 140-acre  located in Phoenix, Arizona, continues to teach and inspire visitors from around the world. It's one of only 24 botanical gardens to be accredited by the . 
6
International Rose Test Garden
As the oldest public garden of its kind in the U.S., the  in Portland, Oregon, serves as a testing ground for new rose varieties with about 200 new kinds under testing each year. 
7
Minneapolis Sculpture Garden
The iconic Spoonbridge and Cherry sits in the middle of the , which is an 11-acre outdoor space that has more than 40 pieces of work from the . 
8
Wrigley Memorial and Botanic Garden
Located on Catalina Island within a 30-minute walk from Avalon Canyon, you can visit , which honors William Wrigley Jr. who not only was the founder of one of the largest American gum companies, but also played a role in the history of Catalina Island. There's an amazing view from the memorial, and it also connects to the popular hiking trail called the . 
9
Los Angeles Zoo and Botanical Gardens
The 133-acre property of the is home to more than 1,100 animals and more than 7,400 individual plants. Take your family to enjoy the zoo's newest exhibit, the Rainforest of the Americas or see some of the 29 endangered species that the zoo houses.
Visit the urban in La Cañada Flintridge, California, to see their native California plants, rose garden, and oak woodlands. One of the garden's most well-known exhibits is the attraction that opens in November each year and features a one-mile walk of eight different lighted displays.
There's plenty to do in the in Bar Harbor, Maine, which is one of the most-visited U.S. national parks with more than two million recreational visits each year. You can hike, bike, bird watch, climb, swim or fish among the park's 45,000 acres. 
12
Redwood National and State Parks
See the magnificence of the redwood tree in person at the . It's a mystery as to why the redwoods grow so tall, yet they can reach ages of 2,000 years old and heights of more than 350 feet tall.