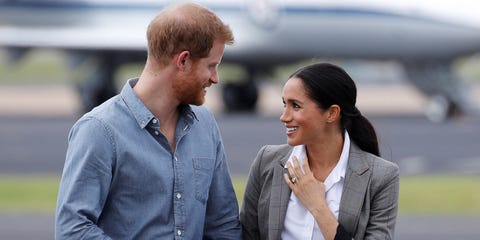 1
The baby will be eligible for U.S. or dual citizenship.
American ancestry in the royal family is unprecedented. (Remember when Edward VIII abdicated the throne to marry American divorcée Wallis Simpson in 1937?) As of right now, the future Sussex would meet the requirements for U.S. citizenship as he or she would have a married American parent who's lived in the States for at least 5 years, according to TIME. However, it's unlikely that Meghan Markle will keep her American passport in the future. Remaining a U.S. citizen would make the royal family liable to an IRS audit—potentially exposing their private finances for the world to see. Only time will tell what route this expat will go.
2
The heir will be mixed race.
Meghan Markle has previously opened up about her biracial background in a 2015 essay for Elle. "While my mixed heritage may have created a grey area surrounding my self-identification, keeping me with a foot on both sides of the fence, I have come to embrace that," she wrote. "To say who I am, to where I'm from, to voice my pride in being a strong, confident mixed-race woman." Her child would reflect a growing mixed-race population in the U.K., too, and would be the first mixed-race heir since possibly Queen Charlotte's children in the 1800s.
3
It could be the first royal home birth in decades.
Royal mothers in recent memory, including Kate Middleton and Princess Diana, gave birth in a high-end maternity ward in London, the Lindo Wing at St Mary's Hospital. But prior to making their public debut on those now-iconic steps, royal babies most frequently came into the world in the privacy of the palaces. Queen Elizabeth II had all four of her children in royal residences, as did Queen Victoria. The monarchs brought in their own doctors and midwives—and Meghan Markle may consider the same. Sources told Vanity Fair that the Sussexes are looking into other options for the birth of their first child, but nothing's been confirmed yet.
4
He or she could have an untraditional first name.
Historically, the royal family has paid homage to relatives and ancestors when it comes to picking monikers. Current odds-on favorites include Victoria, Diana, and Alice for for a girl and Albert, Philip, and Arthur for a boy—all choices with rich histories behind them. But that doesn't mean Meghan and Harry will go an expected route. Not a single bettor predicted Princess Eugenie's name before her birth in 1990, bookmaker William Hill told the Los Angeles Times at the time. Zara Phillips also has an unconventional name for the royal family, so Meghan and Harry could still surprise everyone with an unanticipated pick. In fact, during their recent tour through Australia, the prince commented Harriet was "a great name," People reports.
5
The family could pick an unexpected (or no) title.
According to the Letters Patent issued by King George V in 1917, the new royal baby will not go by prince or princess. The rules state that only the oldest grandson (Prince George) of the heir apparent (Prince Charles) gets that privilege, but the Queen made an exception to give siblings Princess Charlotte and Prince Louis titles as well. Prince Harry and Meghan Markle's child would instead go by Lord or Lady [First Name] Mountbatten-Windsor. Or there's another option: no title at all. For example, Princess Anne declined HRHs for her children Peter and Zara Phillips in an effort to give them a more normal life, an option in line with Prince Harry's past comments about the pressures of being royal.
6
She could challenge the patriarchal aristocracy.
There's yet another title in the mix for a potential son: Earl of Dumbarton. It's the address given to the next Duke of Sussex, Prince Harry's other title. A daughter would be out of luck—at least for now. Five women are challenging the "state-sanctioned sexual discrimination" reinforced by the peerage system, TIME reports. Their ongoing case filed at the European Court of Human Rights asserts women should be allowed to inherit dukedoms too. Only time will tell how that plays out, but a baby girl could potentially become the first female "duke" if the archaic law gets overturned.
7
The line of succession will get a new branch.
Prince Harry is currently sixth in line for the throne behind his dad, brother, Prince George, Princess Charlotte, and Prince Louis. His child will then jump into the mix at seventh, bumping Prince Andrew and his daughters down a notch as well. Who's in the top six matters quite a bit because they have to seek the approval of the monarch to marry if they want to stay eligible for the crown.
9
WATCH: Why Prince Harry and Meghan Markle's Kids Won't be Princes or Princesses
From: Good Housekeeping US