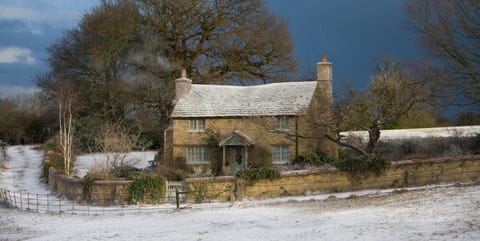 Since Amanda Woods (Cameron Diaz) and Iris Simpkins (Kate Winslet) swapped homes in the 2006 movie The Holiday, I've been dreaming of doing the same. The idea is magical and if it meant meeting my soulmate (*cough cough* Jude Law), becoming BFFs with the person I swapped with for the week, I'd be even more down.
Though they can't guarantee the whole falling in love and living happily ever after part, Love Home Swap, a travel company inspired by the hit film, is making home swaps not only possible, but safe and affordable.
According to the company survey, "77% of Americans have a travel bucket list, but only 3% have actually visited all of the destinations on their list," reporting also that 85% of Americans report that cost is something that holds them back from traveling as much as they'd like.
It's kind of like Airbnb meets Bumble — sign up to be a member (monthly membership fees vary), tell Love Home Swap exactly the kind of getaway you want, tell them what you have ( a short description and a few photos), your matches, and sort out the details. You'll be going on luxury trips in no time — dreams really do come true. Check out a few of the most gorgeous homes below from all over the world, you've gotta see what's out there:
Stone Mansion in Argentina
This unique South American home over the Andes is a breathtaking getaway. It features 4 bedrooms, 5 bathrooms, an infinity pool with lounge chairs, an outdoor dining area with mountain views, and access to tennis courts.
SWAP NOW
This stunning Thailand oasis has 6 bedrooms and 6 bathrooms with a private pool and gym.
SWAP NOW
This may be the chicest bungalow in Singapore. With 3 bedrooms and 3 bathrooms, with a large terrace that faces a pool.
SWAP NOW
This 18th Century Croatian escape located on a hilltop has 3 bedrooms, 2 bathrooms, a gorgeous terrace, and a garden, all overlooking a forest.
SWAP NOW