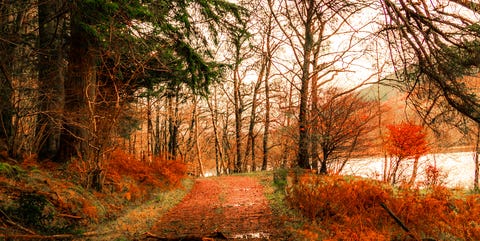 Summer is the obvious time to take a vacation, but there are plenty of places that are actually more ideal to visit in the fall. Sure, there's foliage, but other spots offer better weather (read: no oppressive humidity), less crowds, and lower prices when you travel in the shoulder season. If you need inspiration for where to travel this October, these spots should be at the top of your list.
Scotland's weather is never perfect, so visit in the fall to see it at its most atmospheric. The fog and clouds add an ethereal, almost eerie element to the country's incredible beauty.
Gleneagles
When it's starting to get cold in most places around the country, you can always count on Southern California for beach days that last well beyond summer. The coastal town also offers horseback riding, art galleries, shops and restaurants, wine tasting in nearby vineyards, and sunsets that are completely awe-inspiring.
Belmond El Encanto

You might be inclined to stay away from Africa when the temperatures rise, but the dry season is also prime time for safaris. The lack of vegetation and the floodplains receding makes it ideal for spotting high densities of wildlife gathering at watering holes.
andBeyond Nxabega Okavango Tented Camp
You have to see the fall foliage at least once in your life, and New England is the spot. You can pick a state and stay put, or do a road trip across several for maximum diversity.
Twin Farms
The summer humidity is gone, so jump at your chance to visit the picturesque Southern city. Wander rainbow row, explore the area's plantations, and sip on plenty of sweet tea. On a porch, because of course.
Zero George Street
October is the very end of Peru's dry season, so you'll be able to score a trip to Machu Picchu with lower prices and great weather.
Belmond Sanctuary Lodge
If you're itching to get somewhere warm as soon as the weather turns cool, head to Greece. It stays sunny and warm well into October, making it perfect for a beach vacation, but without the sweltering, borderline oppressive heat July & August bring.
Aenaon Villas
The quaint cobblestone streets are all the more charming with crisp, cool weather and fall foliage all around. It's like taking a trip to Europe, minus the 8+ hour flight.
Hotel du Vieux-Quebec