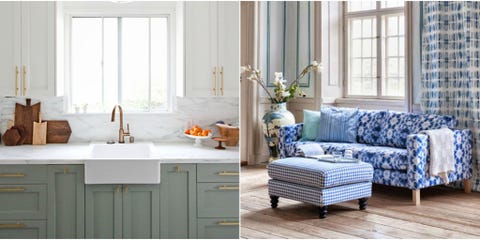 Even though we're all about personalizing IKEA furniture with a little DIY savviness, we get that it can be a huge time suck. And some very smart companies understand that too — which is why they went into business to sell slipcovers, panels, and legs that will revamp customer's existing pieces with little to no effort (genius).
Update your bulky bed, couch, and chair legs with sleek designs that will totally elevate the style in your home. This company offers a variety of shapes and colors — including this gold-dipped version. Afterward, your friends won't believe you bought all of your furniture at IKEA.
See more at PRETTYPEGS »
If your furniture is in tip-top shape, but you're way over the boring neutral color you picked out in IKEA's warehouse, all you need is a stylish slipcover. This company offers more than 250 different designer fabrics and then personally crafts yours to fit the IKEA style you already own.
See more at Bemz »
The beauty of this company is that they essentially give you custom-made cabinets without giving up the valuable price of IKEA, because all you're doing is buying the doors. Each piece is made to order, so you can ask the designers to make pieces based off of existing furniture that has caught your eye — or dream up something totally unique.
See more at Kokeena »
Forget the paint and the mess. Panyl sells furniture coverings that you can peel and stick on the front of your doors or drawers that are in dire need of a makeover (like this MALM dresser!) for a low-cost solution to dated furniture.
See more at Panyl »
Sleek handles (like this one called the Holy Wafer) add glitz and style to boring doors. You can pick from 10 different designs, which come with standard screws that work on almost all IKEA pieces. The company also sells panels and surface tops to revamp your existing pieces.
See more at Superfront »
Instead of investing in brand-new kitchen cabinets, just give your existing doors a revamp to save yourself major moolah. These soft green stunners were part of a makeover on Sarah Sherman Samuel's blog and shows what a difference a little color and craftsmanship can make.
See more at Semihandmade »
This Australian company makes custom made sofa covers at ready-made prices — meaning it won't cost you a fortune to update your couch. But that doesn't mean they don't allow personalization, like the adorable white piping seen on this piece.
See more at Comfort Works »
If you want to add pattern and style to a plain piece from IKEA, then these lightweight decorative panels are all you need. They come in a variety of styles and colors and offer the appearance of statement woodwork with little to no effort (here's a gold dresser hack featuring the company's panels from Amanda Carol Interiors).
See more at O'verlays »