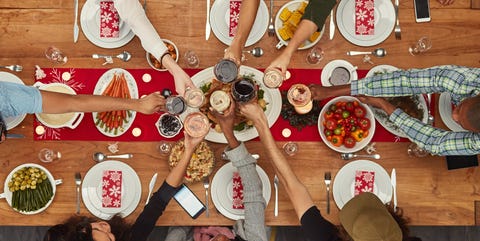 If you're stressing over which bottle to serve with your Thanksgiving feast, we get it. The meal already has plenty of bold, heavy flavors, so you want something that's going to compliment it, not compete with it, and you're probably going to want to switch up your varietal throughout the night. From appetizers through dessert, these are the wines you should have on hand on Thanksgiving.
Bubbles = instant party. Just make sure any sparkling wine you serve is labeled brut, which means it's dry, instead of a sweet varietal.
BUY NOW Veuve Clicqout, $40, drizly.com

Start the meal off with a Sauvignon Blanc. It's light, crisp, and has grassy notes, which is perf for your soups and salads.
BUY NOW Honig Napa Valley Sauvignon Blanc, $14, drizly.com
If you prefer something a bit more bold, but still light and crisp, go with a Chenin Blanc. It's spicy and slightly sweet, and highly acidic.
BUY NOW Beringer Chenin Blanc, $4, drizly.com

Did you know this was even a thing? It's true—about nine percent of the regions wine is actually white, and this acidic blend with dried, preserved fruit flavors is perfect for your celebratory feast.
BUY NOW Chateau Carbonnieux Blanc 2014, $40, wine.com
You literally can never go wrong with a Pinot, Thanksgiving included. This fruity wine, with cherry and cranberry notes, goes perfectly with Turkey and cranberry sauce.
BUY NOW Clos du Bois Pinot Noir, $15, drizly.com
With lots of intense, plummy, jammy notes, a Zinfandel is a safe bet for all your Thanksgiving flavors.
BUY NOW Ravenswood Napa Valley Zinfandel, $11, drizly.com
A peppery Syrah pairs perfectly with an herb-filled stuffing and white and dark meat turkey.
BUY NOW Stags' Leap Petite Syrah, $27, drizly.com
Pair your pie with port and never look back. This sweet, heavily fortified wine goes with everything from pumpkin, to pecan, to apple.
BUY NOW Taylor Port, $5, drizly.com