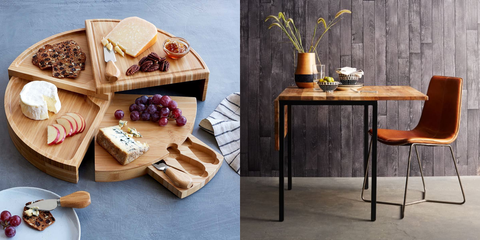 You might live in a small apartment, but that doesn't mean you can't throw parties or host dinners in your home. Sure, space might be hard to come by and things like seating can be a little bit of a challenge to figure out (especially for a sit-down meal), but plenty of people host amazing get-togethers with limited room—you just need the right products and tricks to make it work. From serving to seating, these are all the products you need if you live in a small space but still want to throw a fabulous party.
One of the easiest ways to free up some precious counter space for a party? Add a hanging cocktail bar to your wall—the door on this one drops down to act as an extra surface for preparing drinks.
2
Compact Swivel Cheese Board
Everyone knows a cheese board is a party essential, but if you don't have room to store one in your kitchen, this one folds up into itself and has a drawer for its matching knives, too.
3
Godinger White Marble Three-Tier Server
With tiered servers, you don't have to worry about having tons of table or counter space to put out several trays—just place your snacks on the tiers and they'll be easy for guests to grab.
4
Oregon Glass Drink Dispenser
Rather than put out all the fixings for tons of different drinks, try making a big batch cocktail that you can put in a drink dispenser for easier access.
Cooking for a party in a small space can be a challenge, too, which is where a triple crock pot like this one can come in handy. You can also use it to keep foods you've already prepared warm while you serve people (or while they serve themselves.)
6
Amy Gold-Leaf Serving Cart
Bar carts are always a great option for parties because they're movable—station it wherever you need another surface, be it for drinks, food, or both.
7
Drop Leaf Expandable Table
An expandable drop leaf table is smart for a few reasons—you'll get more table space out of it if you're hosting a dinner party, or if it's the kind of party where you need more standing room, you can fold down the leaves and create more open space around it.
8
Otto Wood Stacking Stool
These simple-but-chic stools stack up neatly, so you can store them in a corner or under a table and pull them out when you need extra seating.
9
Connubia Skip Folding Chair
If you have room to stow away some folding chairs, go with ones that fold up as flat as possible and look impossibly stylish.
10
Woven Textured Floor Pouf
And when all else fails, you can always pull out a comfy pouf like this one for spare seating.