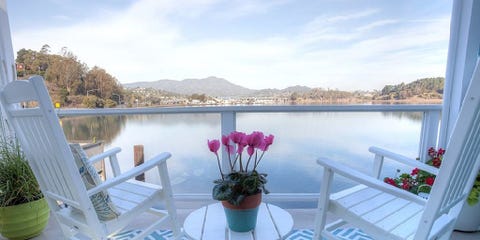 You can rent castles, tree houses, islands, and manors, but some vacation homes aren't on land at all. These floating abodes are a seriously next-level way to see the world. Get ready for the most unique summer vacation ever.
Get up close and personal with the Eiffel Tower's nightly light show right on the "rooftop" terrace. Enjoying a morning croissant on the riverside doesn't sound half bad either.
BOOK NOW $243/night

The loft-like space includes a balcony and a terrace, so there's no shortage of spots for outdoor lounging (with a Heineken in hand, of course).
BOOK NOW $461/night

Stay on this charming ship — which has two separate levels — and enjoy this once-bustling shipyard. The serene harbor now hosts flea markets, art studios, and festivals in the remaining halls.
BOOK NOW $155/night

The freshly remodeled floating home looks out onto Mount Tamalpais. It's the epitome of California dreaming.
BOOK NOW Rates on request

Bask in the warmth of the Florida sun while enjoying peaceful ocean views. The bamboo detailing on the upper deck ups the tropical vibes.
BOOK NOW $165/night
Take in unique canyon views from the deck of this expansive houseboat.
BOOK NOW $900/night

7
San Francisco, California
This unusual houseboat (which is actually a ferry) takes in vistas of the northern coast and the city of San Francisco.
BOOK NOW $525/night

This funky houseboat is the most unique way to see the Pacific Northwest. And, if you love it, it's available to purchase for $425k!
BOOK NOW $160/night
We'll be cruising right past George's villa on the daily. This boat's got a fully equipped mini-kitchen, so you can make dinner then dine on the deck, under the stars.
BOOK NOW $103/night
10
Flowery Branch, Georgia
Keep the sweet tea flowing — we'd be living on this deck during our entire stay. Plus, it's large enough for your whole crew to stay with you; this boat boasts four bedrooms.
BOOK NOW $275/night