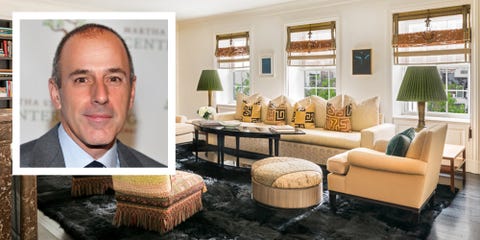 Matt Lauer has put the 11-room apartment where he was fired from the Today show on the market. Scroll down for a look inside the Upper East Side pad where NBC Chairman Andy Lack delivered the bad news.
The apartment is located at 133 East 64th Street, and the Stribling listing says it's in "triple-mint condition."
Lauer paid $5.882 million for the co-op in 2004, according to property records, and convicted Ponzi schemer Bernie Madoff once owned the two-story penthouse in the building.
The rectangular living room includes a parquet hardwood floor and this wood-burning fireplace.
This library off the living room has southern and eastern views.
It's decorated with Warhol prints.
The dining room is off the other end of the living room.
The kitchen includes two wine refrigerators, two ovens, and space for a large table.
The master bedroom suite includes two large dressing rooms.
Here's one of the dressing rooms.
Another view of the master bedroom shows an exercise bike in an adjoining room.
There are also two marble master bathrooms.
Here is one of the other bedrooms.
A fourth bedroom is configured as a study.
For $7.45 million, the apartment could be yours; here's a link to the listing.