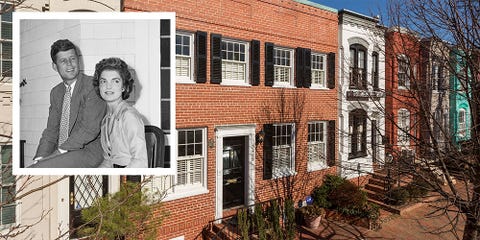 In May of 1951, John F. Kennedy and Jacqueline Kennedy were set up at a dinner party in Georgetown, a neighborhood in Washington D.C. where the couple later settled after they married. Now the site of that momentous meeting is on the market. Scroll down for a look inside.
The 1,934-square-foot home is located at 3419 Q Street NW in Georgetown.
At the time of the meeting the house was rented by journalist Charles Bartlett and his wife, Martha.
Bartlett was a friend of Kennedy's, and "with the help of behind-the-scenes machinations by Kennedy family patriarch Joseph Kennedy," he and his wife decided to throw a dinner party for about eight guests "for the express purpose of introducing the eventual president, a notorious bachelor at the time, to his future bride," the Washington Post reports.
After that dinner, Kennedy reportedly told friends "'I've never met anyone like her."
He and Jacqueline Lee Bouvier wed two years later in Newport, Rhode Island.
The brick house was built in 1895.
It still includes period details like hardwood floors and a wood-burning fireplace.
The kitchen has been updated with stainless-steel appliances.
Here's one of the three bedrooms.
Outside, there's a brick patio and garden area with an outdoor fire pit.
The property is a short walk from Georgetown's shopping and dining district.
This piece of history could be yours.
Here's a link to the listing.