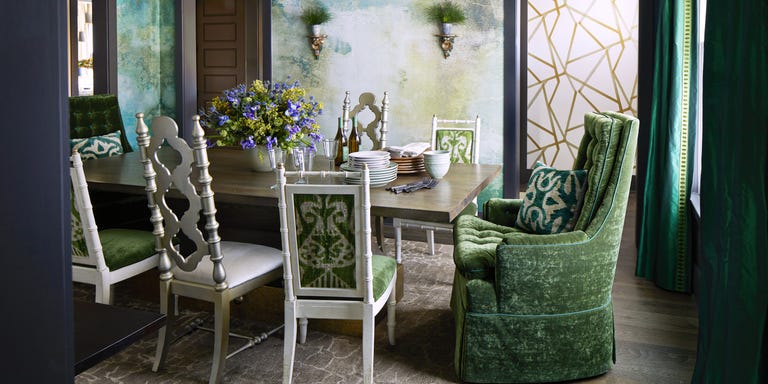 In her newly built home outside Atlanta, designer Kristin Kong channels the best of 1970s style, from earthy hues and layered geometrics to trippy patterns and around-the-world finds. The resulting rooms feel right-on — and refreshingly right now.
Meet the Designer
Kristin Kong in the dining room.
Entry Table
To create "a sense of arrival," Kong set a console against a Zoffany wallpaper in the entry.
Dining Room
For the dining room, the backs of vintage chairs from were upholstered in a ­velvet ikat purchased in Istanbul's Grand Bazaar. Chandelier, . Rug, . The custom wallcovering is based on a print from Leftbank Art. Trim paint, Black Fox.
Living Room
The conversation area includes sofas, Pierre Paulin chairs, and a rug; vinyl wall­coverings, like this one by Len-Tex, are one of Kong's "go-to materials for durability."
Living Room Chairs
Kong hid a door to the basement behind millwork painted in Black Fox in the living room of her home near Atlanta. The ­eye-fooling trick "makes the room look less choppy," she says. Some of Kong's favorite collectibles — geodes, petrified wood, African jewelry — are displayed on the built-in shelves.
Lounge Chair
A Le Corbusier lounge chair and a console furnish a corner of the living room.
Master Bedroom
Kong layered shades of purple in the master ­bedroom, from the custom headboard's velvet to the curtains' satin to the wall­covering. Window frames in Plum Brown.
Master Bedroom Stool
Kong carries on the purple hues with a stool in a print.
Master Bathroom
The master bath's stool is by , and the pendant is by . Mirrors, . Wallcovering, .
See something here you like? Check out our shopping guide for where to find it.
This story was originally published in the March 2018 issue of Natipernavigare.
Был найден мной полезный интернет-сайт на тематику Купить Камагра Soft
http://cialis-viagra.com.ua
Был найден мной полезный web-сайт с информацией про механическая сеялка
http://ag-tng.com.ua