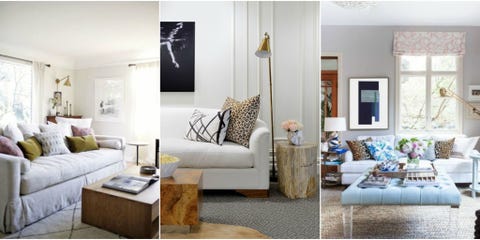 If there's one thing parents agree on, it's that white sofas are a serious no no. Can you imagine the horror of your youngest spilling a glass of juice on such an investment? Well, it turns out rules are made to be broken, because several designers chose white hot sofas during season 11 of the "One Room Challenge."
After partnering with Linda Weinstein from Calling It Home to exclusive updates from the 20 designers challenged to completely make over a room in just six weeks, we were blown away by this brave trend. Here are just a few of the reasons the ORC designers weren't afraid to go bright when they picked out their sofas.
1
Stain repellent fabric now exists.
"I have always loved the look of a white sofa, but never dared to live with one, because as a mom of two boys, I chose sanity over pretty," says Sarah Walker. Good thing Thibaut's new Crypton Home fabric is water and stain repellant. "Now I can have both!"
See more at The Curated House »
2
It'll never go out of style.
After all, when was the last time you heard someone say white is so last year? Shannon Claire paired her sofa with timeless black-accented pillows. "These are the kinds of pillows you can keep for years, and move around the house to fit your needs, because black and white never goes out of style," she says.
See more at Shannon Claire »
3
Slip covers are the best of both worlds.
As a mom and pet owner, Kris Jarrett decided a slip cover design in a washable fabric was the way to go to so she wouldn't have to worry about spills and stains. "I also plan to seal it with a fabric protector for even more piece of mind," she says.
See more at Driven By Decor »
4
Redecorating will never be easier.
"I often go with neutral sofas for clients and myself for their versatility, then as one's tastes change, by switching up the pillows and throws, you can achieve an entirely different look," says Jana Bek. Hesitant about stains, Bek went with a Sunbrella fabric, which is for indoor and outdoor use and easy to get stains out of.
See more at Jana Bek Design »
5
It goes with every color palette.
Sure, grey is a simple compromise for stains, but Cassandra LaValle is not a fan when it comes to home decor: "It can really restrict the palette of there rest of the room," she says. "I think the key with white like this is to make sure it has great texture — and this one does!"
See more at Coco.Kelley »
6
Relaxation is sure to follow.
"I love the crisp, fresh look of white and in this little sunroom I really wanted the space to feel like we were on vacation," says Gen Sohr. In an instant, the Pacifica Corner Sectional transports you to the sunny Bahamas — and the Sunbrella fabric makes piña colada spills easy to wash out as needed.
See more at Pencil & Paper Co. »
If you want to explore the finished rooms from the 20 featured designers from the challenge, take a look at our reveal gallery. And if you want to see more behind-the-scenes photos from the designers (and guest participants!), check out what they d using the #oneroomchallenge hashtag.