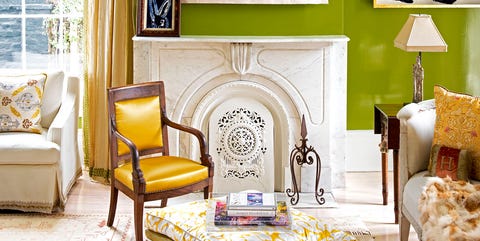 Don't ignore those weird shades on the fan deck. When used in the right way, they can do incredible things. These best-selling shades aren't your typical neutrals.
1
S 3560-G60Y, Fine Paints of Europe
"People think I'm crazy when I say this, but to me, any green—even this one—can be a neutral in that everything looks good with it. We wanted a true chartreuse; too yellow and it's pea green, too blue and it's Kelly."
—Gwen Driscoll @gwendriscoll
(Left) London's Winfield house inspired this room from designer Gwen Driscoll: "I said to my client, 'instead of fancy-pants, let's make it modern!'"

2
Flirt Alert P150-7, Behr
Art in gold frames would pop on this.
3
Avalon Teal CSP-645, Benjamin Moore
"I often do painted floors in country houses; this is the city version! We used a pigmented concrete, which gives an amazing depth of color. The blue feels luxe and hard-edged at the same time." ­
—Fawn Galli @fawngalliinteriors
(Left) Pigmented concrete wears better than a painted floor, Galli says—just make sure to seal it.

4
Sulking Room, Farrow & Ball
Perfect for a cozy study.
5
Electric Orange 2015-10, Benjamin Moore
"This color actually came from an Hermès box I found in my wife's closet. It was a fun, surprising way to make the interior of my kitchen cabinets just as beautiful as the fumed oak exterior—and so much better than opening them to see a jarring bright white or refinished maple."
—Patrick Sutton @patricksuttondesign
(Left) From the outside, you'd never know it was there!

6
Night Watch 1145-7 PPG Pitts­burgh Paints
Pair with blond-wood furniture, please!
7
Chocolate Velvet CSP-235, Benjamin Moore
"Dark brown walls don't have to be serious! For a young family's apartment, we chose a shade with golden under­tones that plays well with cheery reds and yellows."
—Bruce Shostak @bruceshostak
(Left) "It looks like glossy brownie batter," says Shostak of the shiny finish.