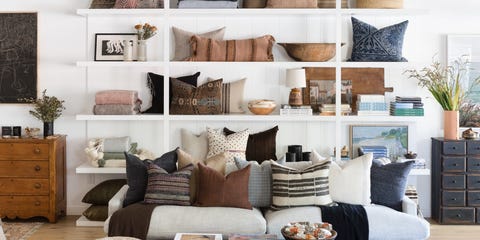 Amber Lewis of Amber Interiors has become a force of Southern California interior design. And her shops, located in Calabasas and Pacific Palisades, are known for their curated collections of chic, coastal-inspired pieces. So when tragedy strikes close to home—wildfires have destroyed more than 35,000 acres and 75,000 homes—she felt compelled to help. "We have so many clients and loved ones who have lost their homes and animals," she said. This weekend, Shoppe Amber Interiors is donating 100% of its proceeds to help those affected by the fires. Here are just a few of their amazing pieces:
This vintage linen pillow is completely one-of-a-kind.
Created by L.A. potter Victoria Morris, these vases are just the right amount of flawless and imperfect. (And look as good without flowers as they do with them.)
No one does ottomans like this company—and this menswear-inspired piece is almost too nice to put your feet on.
Shop Amber Interiors
$15.00
A linen hand towel that works with nearly any design. (Bonus: They get softer with every use.)
Amber's designs often start with a perfectly worn rug. This antique Bidjar area rug would make an amazing centerpiece to any room.
6
It's Not You by Jennifer Ament
When you need a print to do your talking for you.
Shoppe Amber Interiors
$310.00
Because you can literally never have enough.