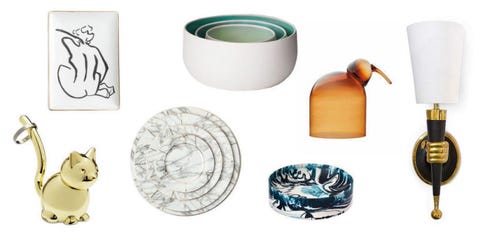 Over 2,500 brands came to this year's NY NOW showcase to display their yearly and seasonal collections in home, gift, and lifestyle. 2016 has only just begun, but already the decor world is sensing a slight design shift, updating, reimagining, and building off of the most exciting designs and patterns from the previous year. Here are six prominent decor trends from NY NOW that you'll start seeing a whole lot more of in the coming seasons.
1. Eleni Dinnerware Collection, $136 for set, thepicketfence.com; 2. Raw Edge Onyx Bowl, $365, modishstore.com; 3. Amare Stainless Steel Serving Set, $185, annanewyork.com
Whether in material or simply in pattern, white marble has a substantial visual weight to it that evokes sophistication, wealth, and opulence. We saw it used mostly for tabletop and decorative display in alabaster and onyx, each cloudy-colored stone with its own unique veining. When kept small-scale, a marbled accent makes a refined, yet reserved statement in the modern home.
More: Drink in Style: the 12 Best Highball Glasses
1. Navy/Mist Chambray Runner, $44, us.pehrdesigns.com; 2. Swirled Resin Bowl, $175, momastore.org; 3. Wave Table Lamp, $495, shopcandleabra.com
Not only the supposed new title of a certain rapper's upcoming album, but also one pattern that we're seeing over and over again, waves add both movement and a sense of tranquility to the home. This style works, even without an overarching maritime motif. Wave-like swirls, scallops, and gradients present infinite accenting possibilities, due to the versatile yet serene shades of blue.
Trend: Italian Renaissance
1. Palace Signoria 7-Piece Dinnerware Set, $211, allmodern.com; 2. Yardley Side Table, price upon request, madegoods.com; 3. Gold Acanthus Cachepot, $220, beyondstores.com; 4. Ladies Choice Tray Nude Sitting/Back, $20, rosannainc.com
With the reemergence of marble pattern comes a renewed interest in Italian-inspired art and architecture. This interest manifests itself in column structures, laurel-leaf accents, tasteful nudes, and modular dinnerware made for never seeing the inside of a cabinet.
1. Brass Hand Clip, $30, blisshomeanddesign.com; 2. Peace Neon Sign, $275, olivergal.com; 3. Brass Hand Sconce, $595, jonathanadler.com; 4. Skeleton Hand Jewellery Tidy, $45, suck.uk.com
Whether offbeat, macabre, or imbued with spiritual connotations, accentuating your decor with these disembodied digits speaks volumes about your style without saying a word. Part storybook quirk, part casual unconventionality, these clever, hand-shaped picks are sure to make guests do a double-take.
Trend: Interior Colorblocking
1. Grace Basket, $40, gracioushome.com; 2. Morning Glory Porcelain Vase, $149, onekingslane.com; 3. Ombre Celedon Nesting Bowls, $180, pigeontoeceramics.com
Those with an eye for playful contrast never miss a beat — the inside of a decorative vessel is a fabulous opportunity to inject an unexpected shade. These picks all at once display attention to detail as well as innovative craftsmanship.
1. Birds by Toikka Anna, price upon request, iittala.com; 2. Blue Rabbit Sauce Dish, $4, miyacompany.com; 3. Large Covered Dish with Cheese Spreader, $270, store.tinafreydesigns.com; 4. Zoola Cat Ring Holder, $8, umbra.com
Adding a cheerful, whimsical touch, strategically-placed animal accents have a way of instantly lightening up the home. When decked in materials such as resin, glass or brass-plate, this menagerie is just right for everyday display. Go subtle, with a bunny-adorned sauce dish or a mini kitty to hold your baubles, or create more of a focal point by keeping a chic glass bird perched on the bookcase.