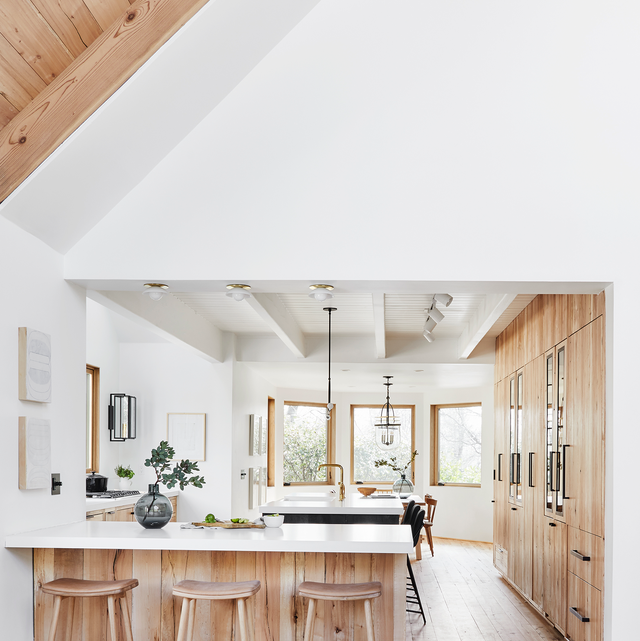 Sara Ligorria-Tramp for EHD
Spring is finally in the air—from the scents of fresh blooms to birds chirping, it's so nice to finally look forward to some sunshine and warmth. And yes, while spring cleaning might be a bit of a drag, just think of all the new items you can bring into your home once you clear out anything that doesn't spark joy! A change of season is always the perfect excuse to infuse a little newness into your home, courtesy of the hottest trends. And if you're not sure where to start? Well, that's where we come in. We tapped several design experts, from bloggers to designers, to disclose the trends they're most looking forward to bringing home this spring. Prepare to be inspired.
People's love of millennial pink hasn't faded, no matter how many trend forecasters have tried to declare it dunzo. "Adding a bright pop of pink to your living room through an accent chair or decorative pillow is an easy way to change it up for the transition from winter to spring," says Homepolish designer Chloe Chudinha. Think dreamy vibes year-round.
2
Clusters of Pendant Lights
Want to up your lighting situation? Go for multi-pendant fixtures, says HGTV star and designer Emily Henderson. "By multi, I mean at least five pendants," she says. "Especially ones that are made of natural materials, because what says, 'Hey, summer is on its way' than beautiful, woven pendants? It's pretty spectacular when done right." The natural materials also help to tone down how over-the-top such a large number of pendants are, if you're into a more minimalist look.
BUY NOW Sinnerlig Lamp, IKEA; $70
3
Floral Wallpaper, Freshened Up
If you love plants but just end up killing all of them, maybe you should take a page from interior designer Brooke Giannetti. "This spring, we're seeing a lot of floral wallpaper—and not just the small prints or murals that were previously popular," says the Patina Living author. "Instead, these are large-scaled prints that surround us with nature's beauty. While there are many to choose from, my favorites are by Area Environments."
This room by Studio DB is a perfect example of how florals liven things up.
4
Put a Bird on it—No, Really
Yes, this might sound weird, but hear designer Alison Kandler out. "Honestly, birds are really big this season: They're on light fixtures, wallpapers, and fabrics," she elaborates. "I like them because they're always whimsical, and they bring a touch of the outdoors in." You can always play with just a small fixture or piece of wallpaper, and then go a bit bigger when you're more comfortable (like this incredible Paul Villinski work of art at Hotel Van Zandt in Austin, Texas).
"I'm in love with tonal interiors this season," says interior designer Sheena Murphy of Nune Design Studio. "Soft white walls, as well as warm and neutral stones and pale woods. They're the perfect backdrop for spring flowers!" You can also easily transition them to fall by adding in some velvets and other warmer colors as the temps cool down.
6
Rattan, But Make It Modern
"Rattan started to make an appearance in 2018, but this spring, it's set to take the interior world by storm!" says Niki Brantmark of popular design blog My Scandinavian Home. "Forget the more simple '70s look—rattan has been given a seriously modern update. Think peacock-inspired bedheads, wicker storage units, and rattan and chrome chairs: There's something out there for every room and budget!" It really adds a level of comfort to your home that other materials can't.
Need further persuading? Just check out Anthropologie's new cabana daybed.
BUY NOW Rattan Cabana Daybed, Anthropologie; $1,498
"I've been a brass evangelist for years, but there are cracks in my faith—and through those cracks, chrome is peeking through," says designer Jonathan Adler. "Silver tones are looking fresh and luminous, but that doesn't mean brass is dead: It just means that 2019 is the year of mixing metals with wild abandon."
Can't say we didn't call it—and if you need some help, check out our complete guide to mixing metals here.